Bergen to Oslo, Norway
---
The next day (July 6) we left Bergen and drove up the west coast of Norway (Hiway E39),
through the beautiful fjords and many charming, small villages, north to Oppedal, where
we ferried across Sognefjord, the world's longest and deepest fjord. We continued driving north ...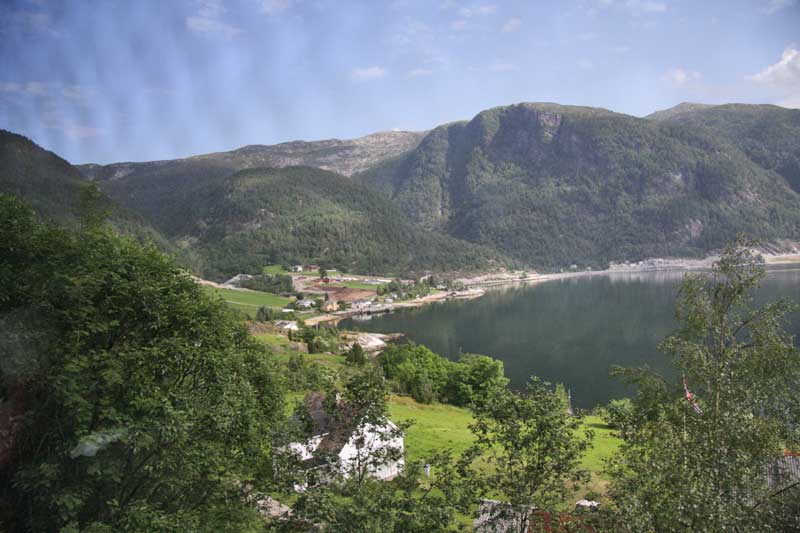 ---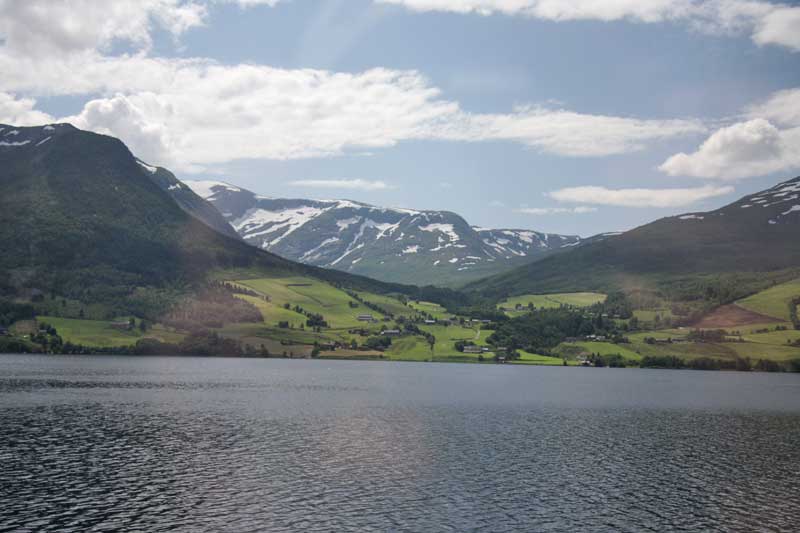 ---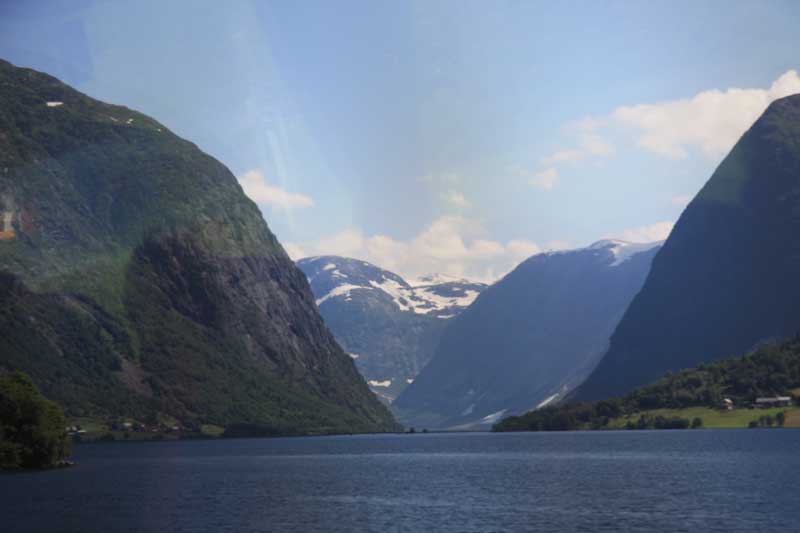 ---


We continued north to the village of Skei, where the picture below was taken
(our Christmas card picture!), along the shores of Lake Jolster.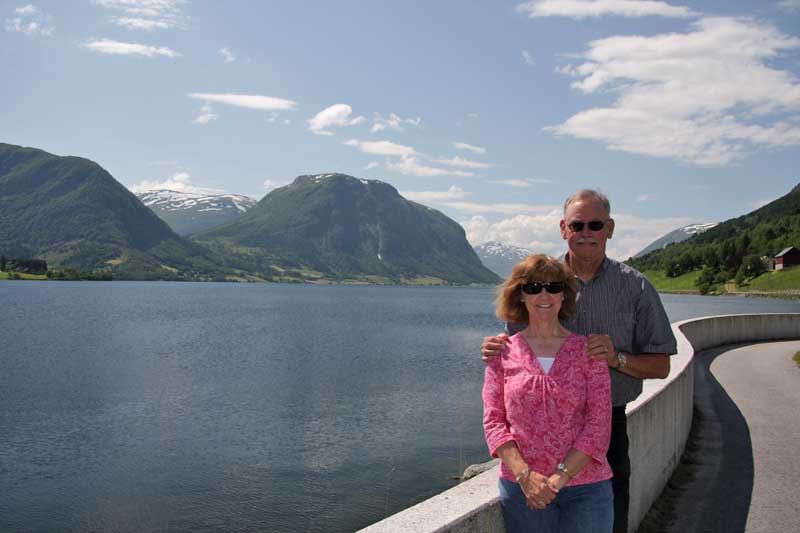 ---


The Jostedal Glacier can be seen in this picture as we push toward the ferry port village of Hellesylt.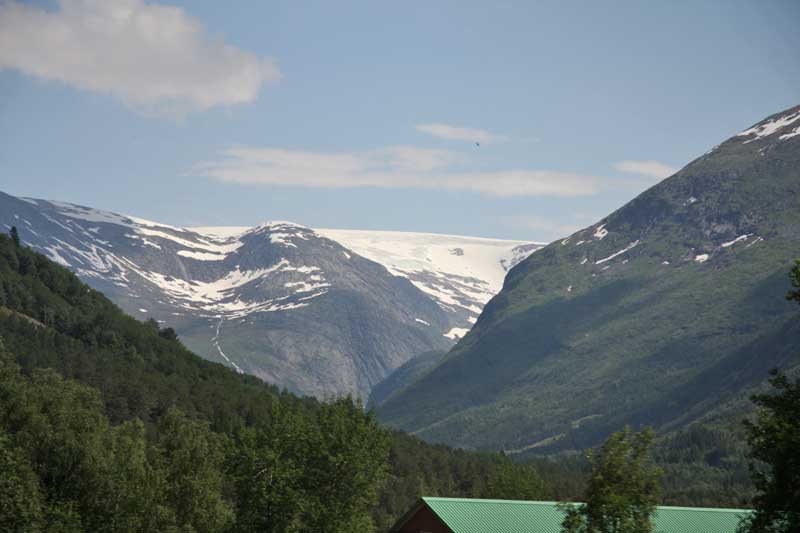 ---


We travel north on Road 60, where we see the Nordfjord, pass through Stryn, and
finally arrive in Hellesylt where we pick up the ferry to Geiranger.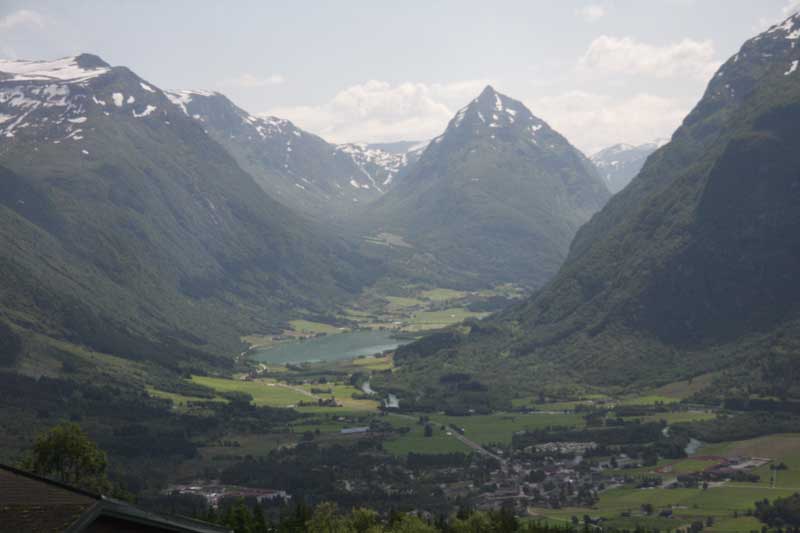 ---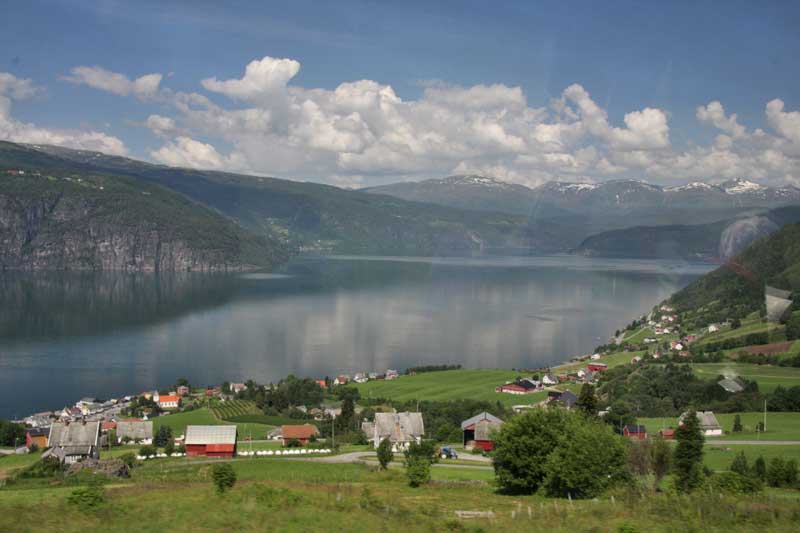 ---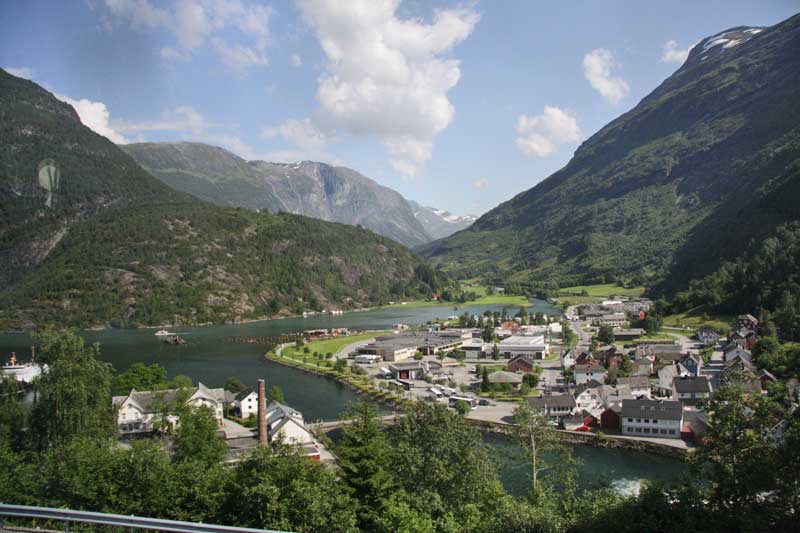 ---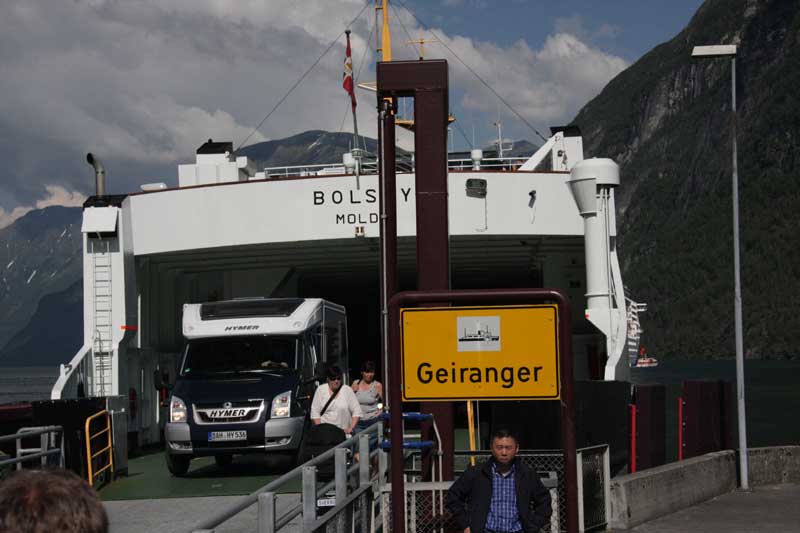 ---


The following pictures show one of the most picturesque fjords in Norway, the Geirangerfjord.
Our journey through it is only ten miles long but the sheer rock walls tower more than 6,000 feet
above sea level and the depth of the fjord is 960 feet. At the end of the fjord is the village of Geiranger.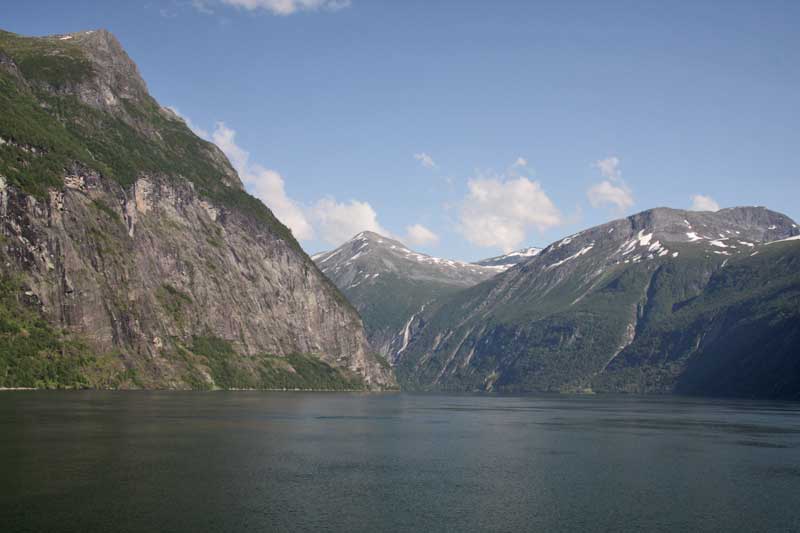 ---


The fjords are home to hundreds of waterfalls, the ones shown here being the famous Seven Sisters.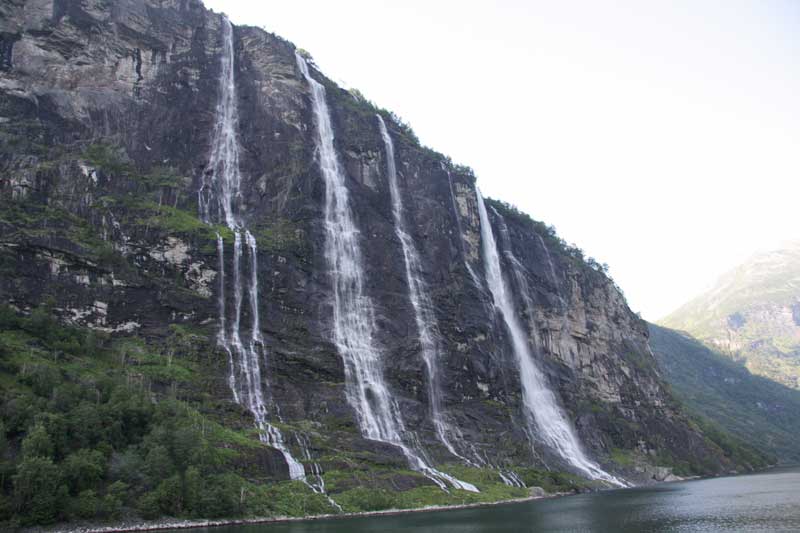 ---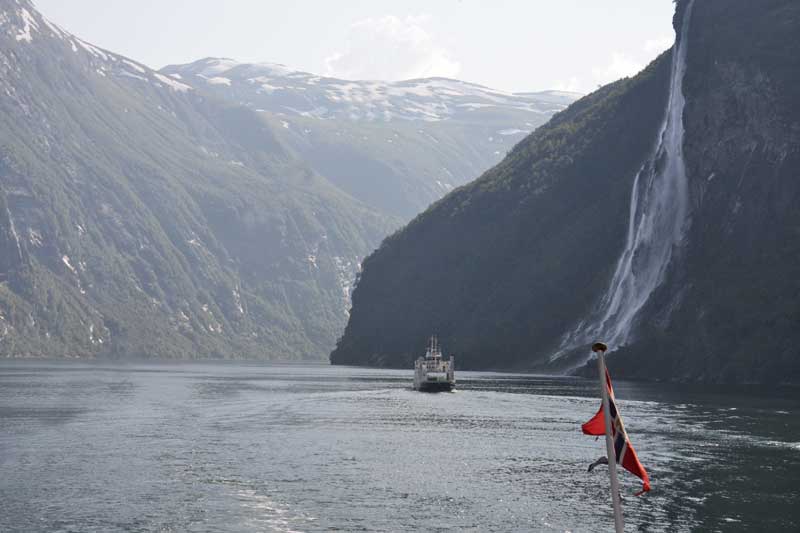 ---


The village of Geiranger is just ahead as our ferry arrives in port.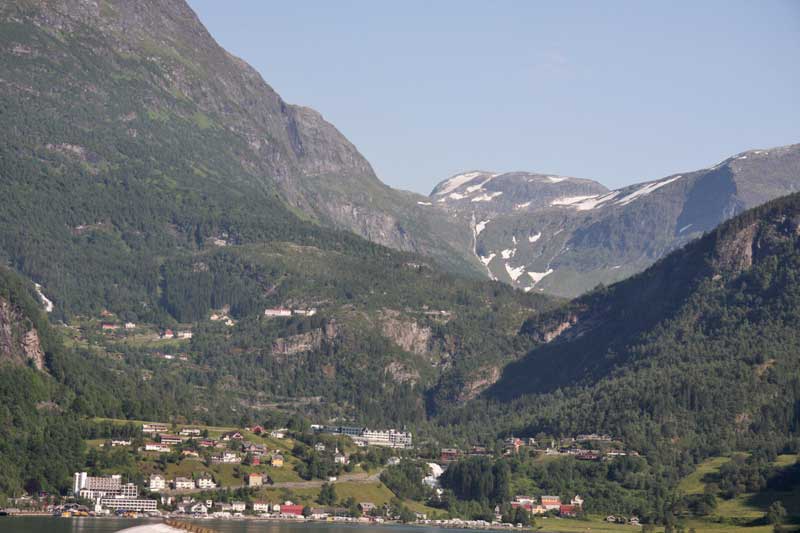 ---


The day after this pic was taken, our bus drove up the switchback road (Eagle's Road)
that you see on shore, just to the left of the cruise ship in the foreground.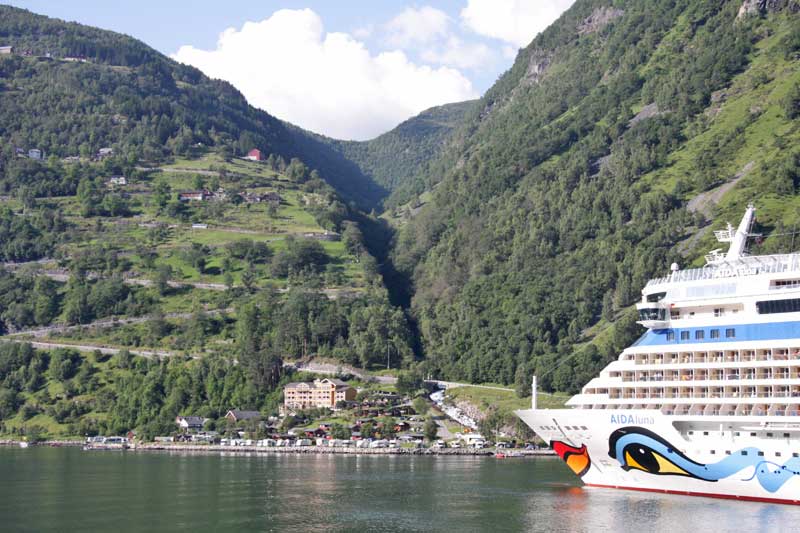 ---


We got a great view of the Geiranger fjord from this lookout point,
Eagle's Turn. I wish we would have had a bit more sun!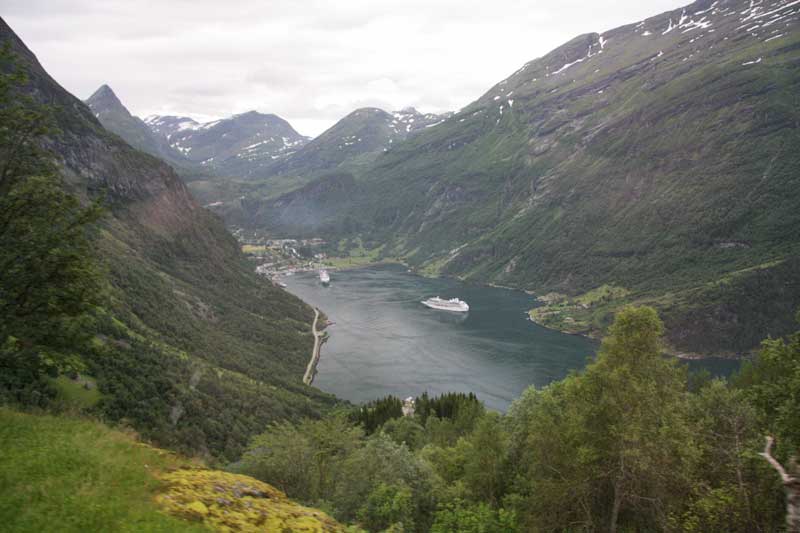 ---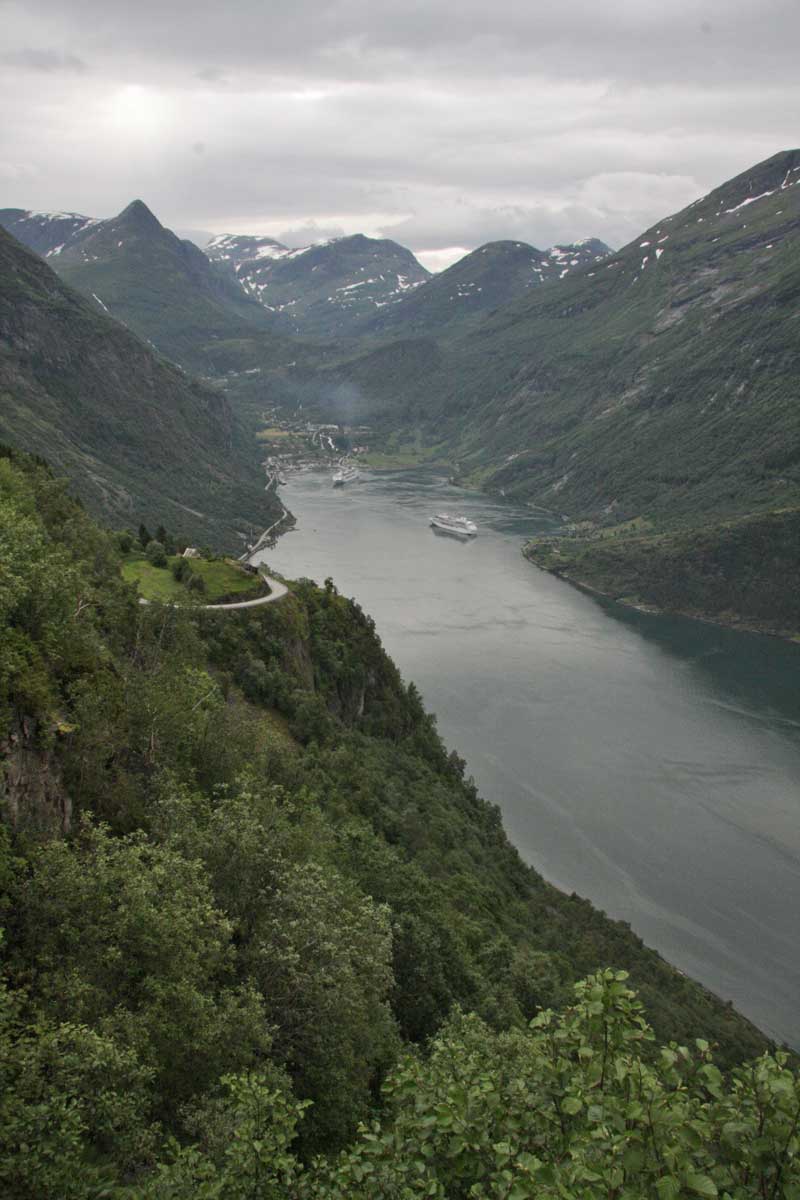 ---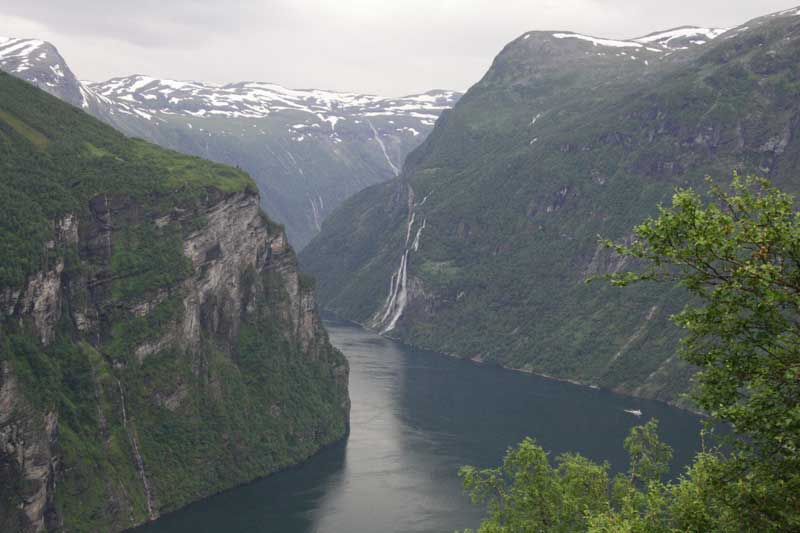 ---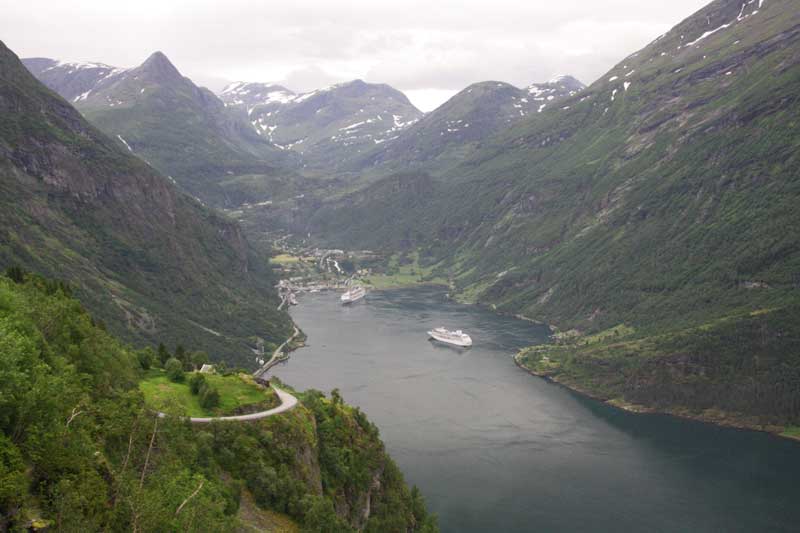 ---


As we leave the Geiranger fjord and head for a goat farm,
Mary describes this place as a "cute little farmhouse".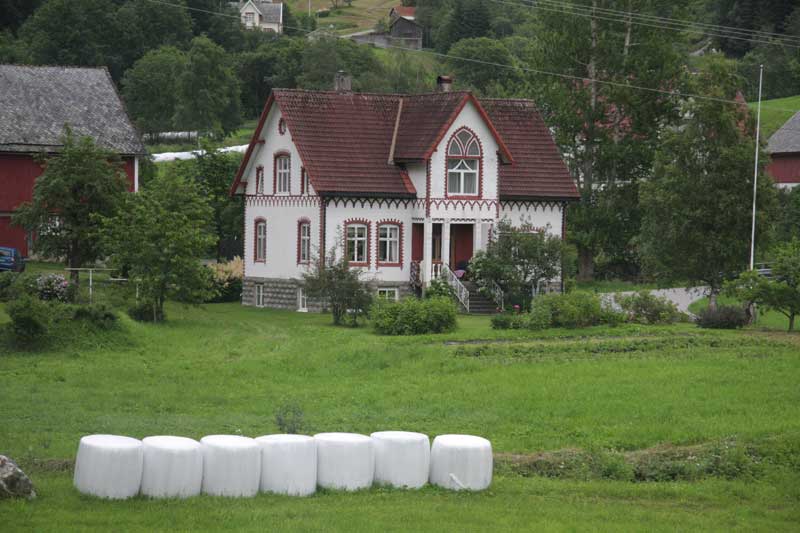 ---


We arrive at the Herdalssetra Goat Farm and we hear how goat
cheese is made ... and then we see it being made!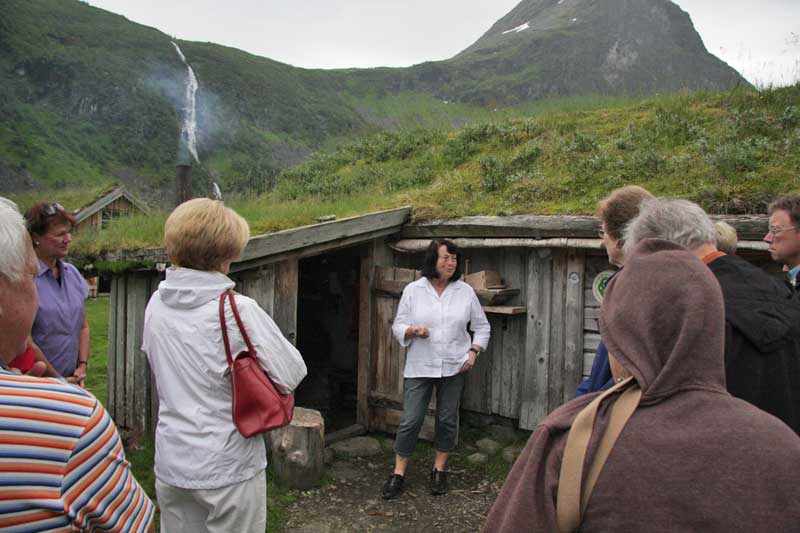 ---


This is how it's done (goat cheese). I'll bet it's been done this way for centuries.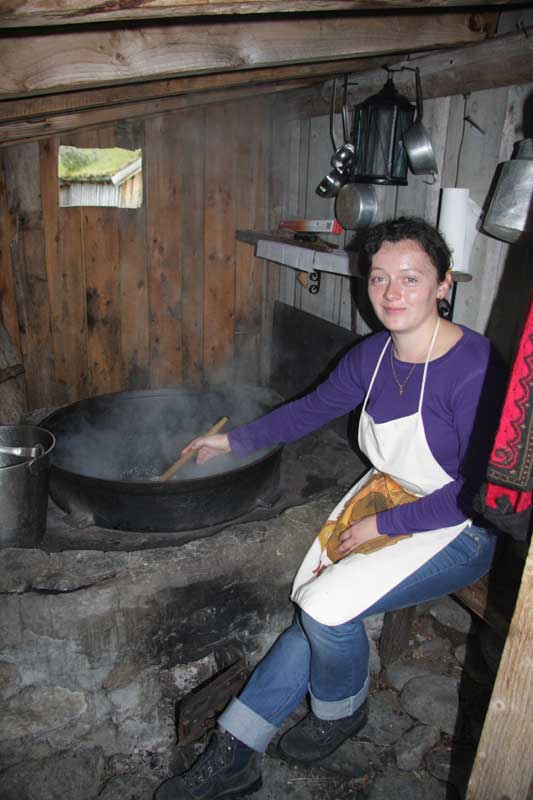 ---


Here is some of what we had for lunch. We're not sure about any of
this, but the sausage is likely goat or horse and the pudding, as
we recall, is made of butter, cream, and other healthy ingredients (!).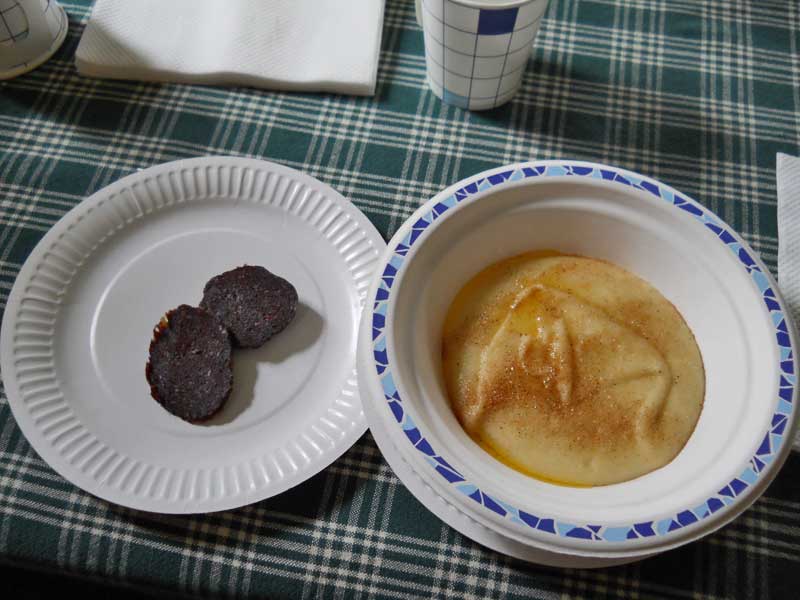 ---


Loraine and Pat enjoy some Norwegian pastries.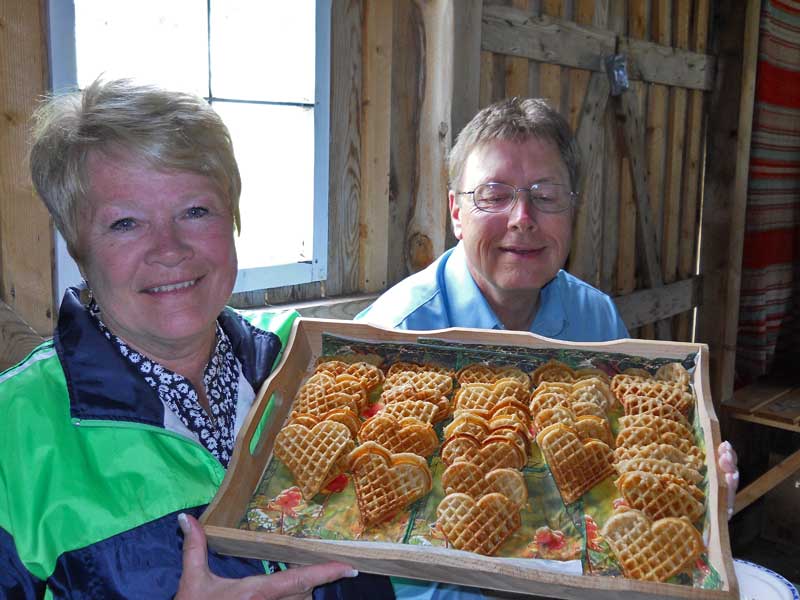 ---


Margaret displays ... hmmm, might be a flatbread or lefse. Can somebody out there help with this one? :-)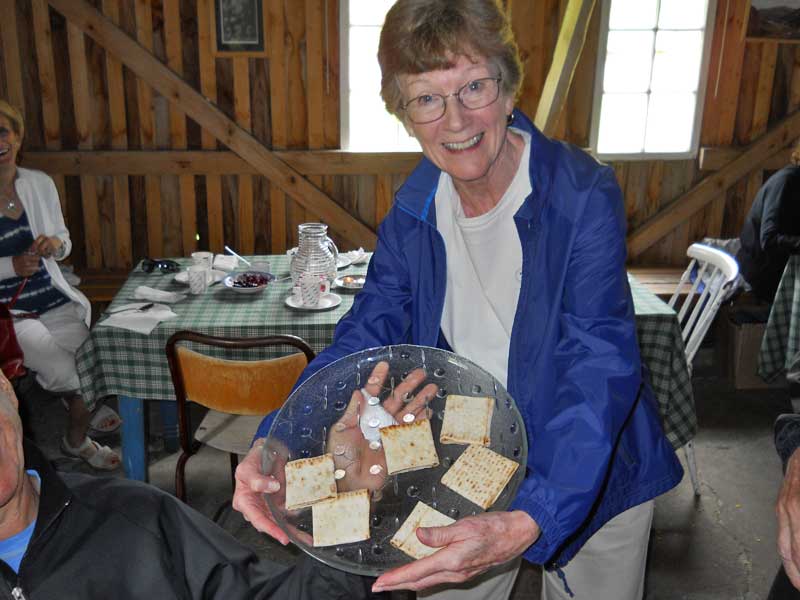 ---


I've seen thatched roofs before ... but this one has a mini-forest growing on it.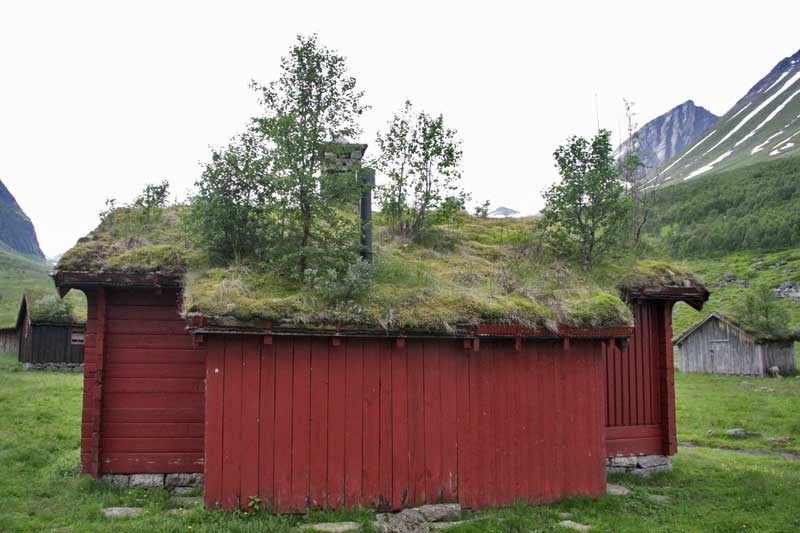 ---


People who work at the goat farm must protect their vehicles from all sorts of things!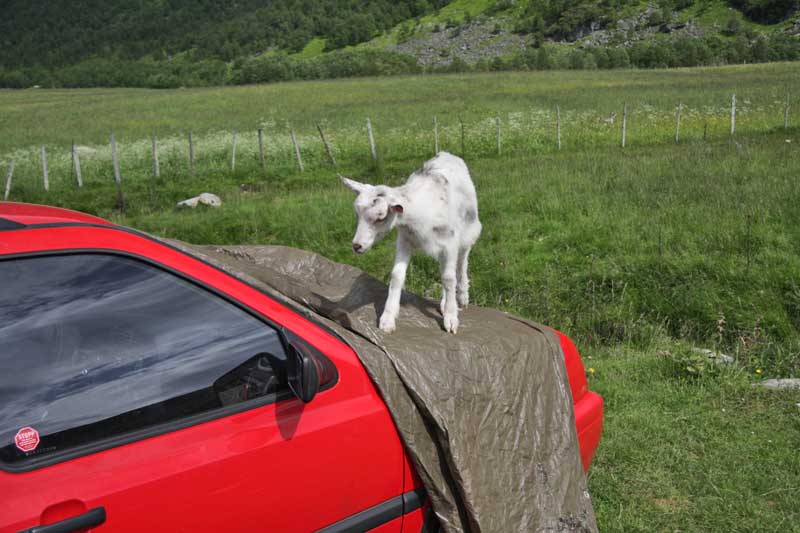 ---


Heading back to our hotel (Hotel Union) in Geiranger, we stopped to "straighten the legs"
and to sample a refreshing adult beverage - a little Aquavit! Arvid, our guide, pours
a little sample for those desiring to try it. Some of us had two, just to be fully refreshed. :-)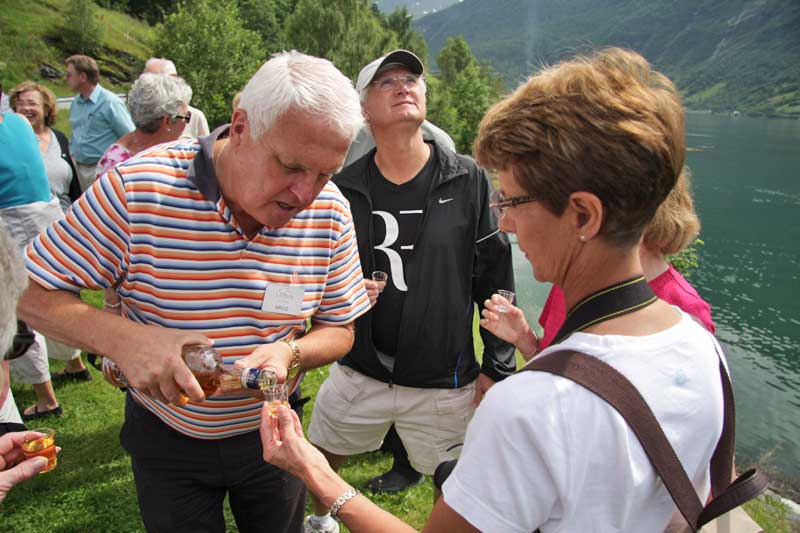 ---


Aquavit (Akevitt - Norwegian, Akvavit - Swedish) is a distilled potato or grain-based
liquor commonly flavored with caraway, but similar in appearance and taste to vodka.
It is found throughout the Scandinavian countries (Denmark, Norway, and Sweden).
Most of us decided it was "interesting", but not something we would drink daily.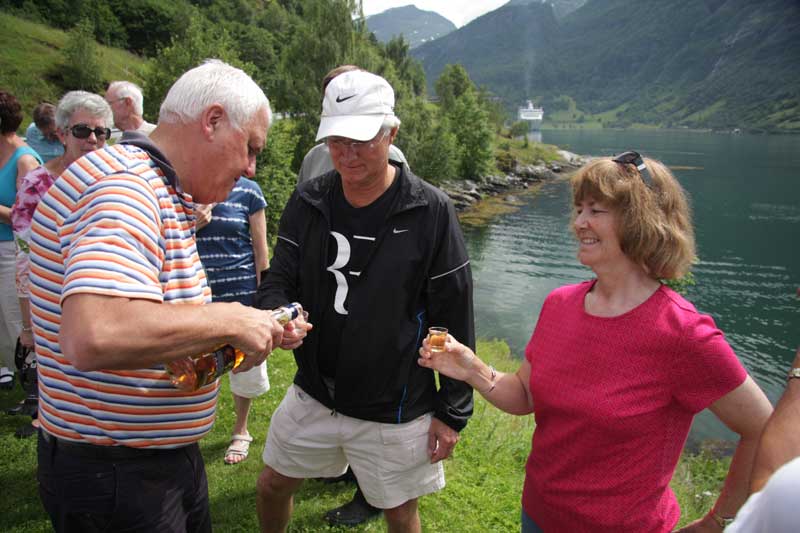 ---


"SKOL", which means Beauty, Love, Spirit, and Long Life (thanks Arvid!).


---


Bill is smiling because ... "I slipped some Tequila into their Aquavit and they didn't even notice it."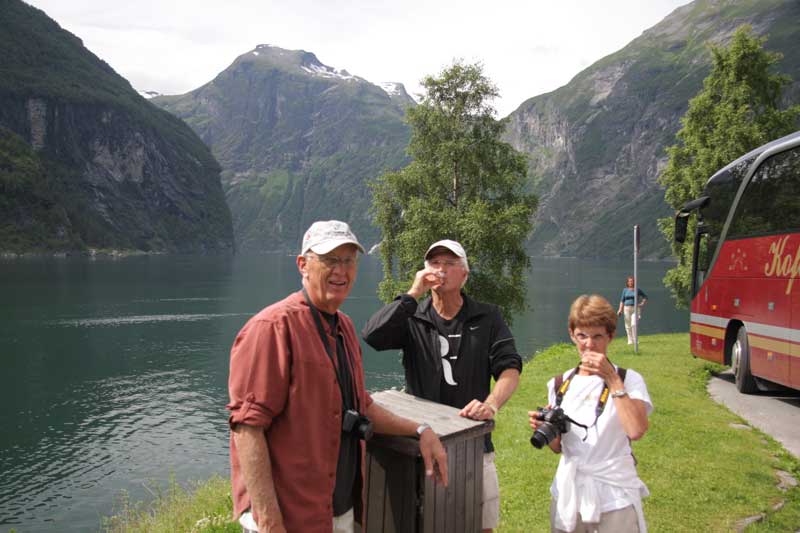 ---


Arvid says, "I am OK with this ... as long as I don't have to wear that silly hat."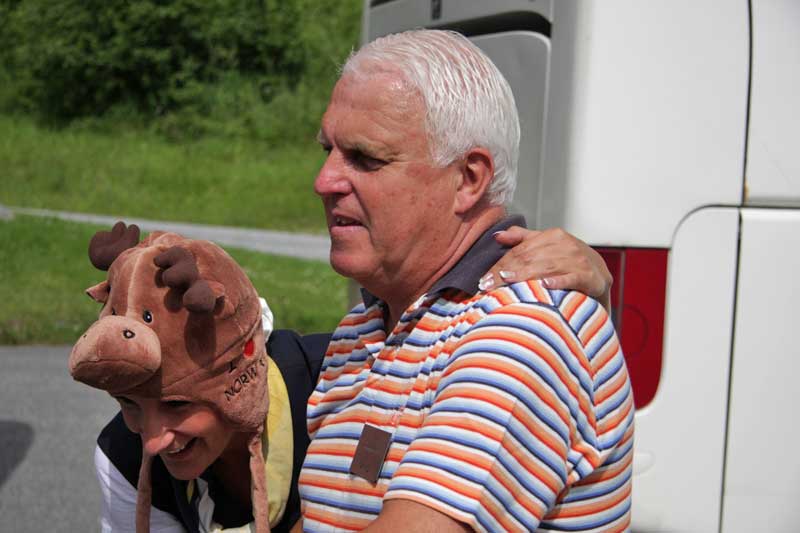 ---


We arrive at Hotel Union, where we stayed for two nights. While at this hotel,
we listened to a presentation on the history of the hotel as we perused a
vintage car collection belonging to the hotel's owner ... while having a glass
of wine prior to dinner. We also toured the village of Geiranger and hiked back
to our hotel (exercise!). That night we discovered a rock band from Bulgaria, which
played American popular songs such as, "Rock Around the Clock", and "Don't It Make
My Brown Eyes Blue". It was interesting to hear these songs sung with a Bulgarian
accent (!). Several of our group even got up to dance to "Zorba The Greek".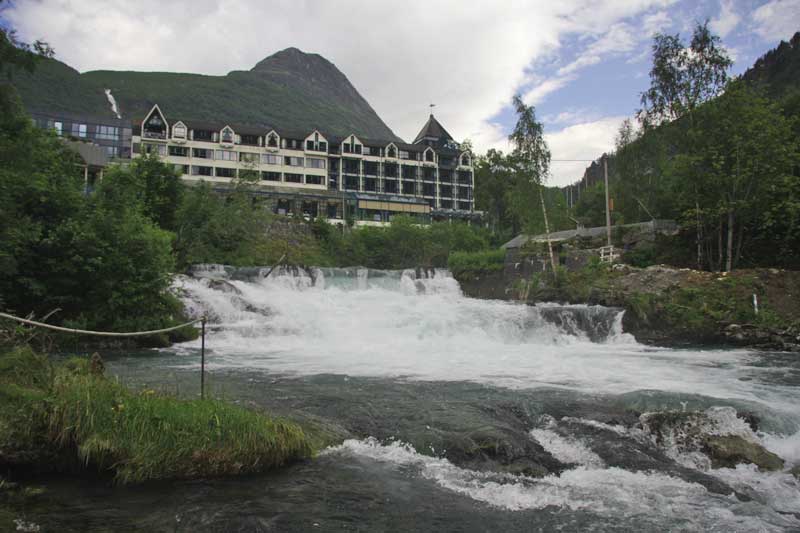 ---


There's that tourist with the bear again. I think she's following me.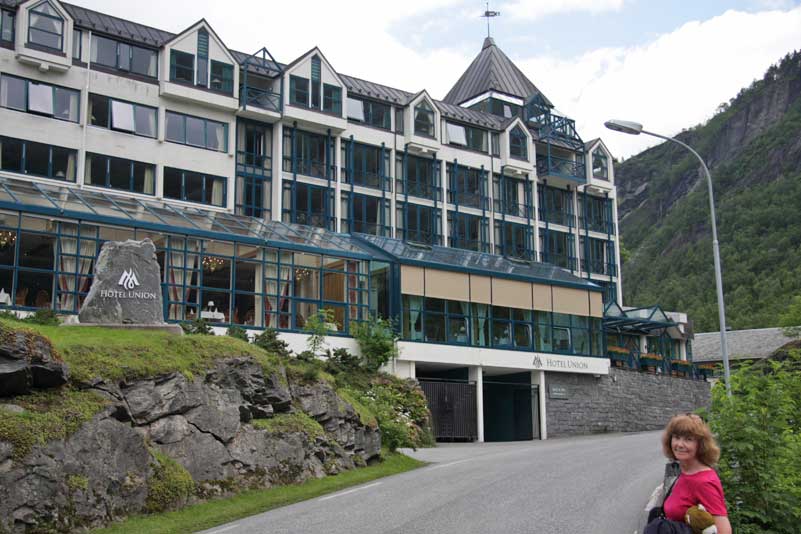 ---


The next morning we departed the village of Geiranger and drove up Geiranger Mountain Road,
with its 20 hairpin turns and several bridges, on our way to the summit of Mt. Dalsnibba
where we get a bird's eye view of the village of Geiranger and can easily see the Hotel Union.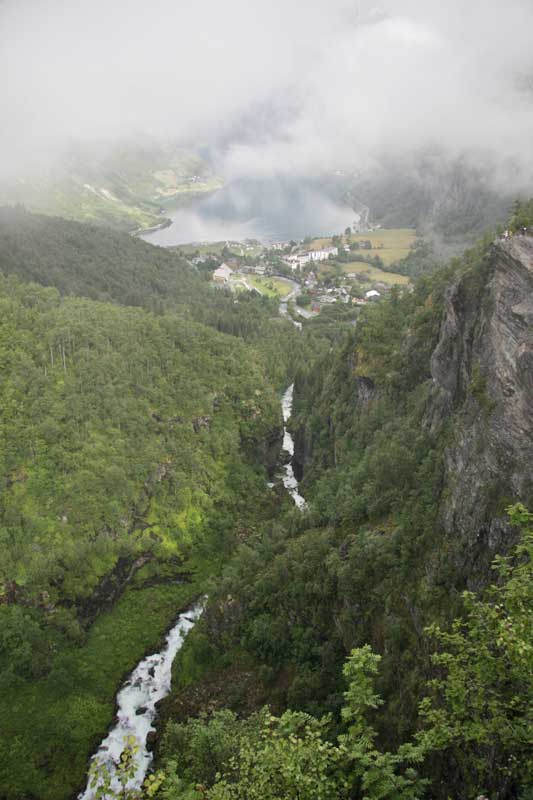 ---


The weather was not cooperating with us but we could still see the village and the hotel below us.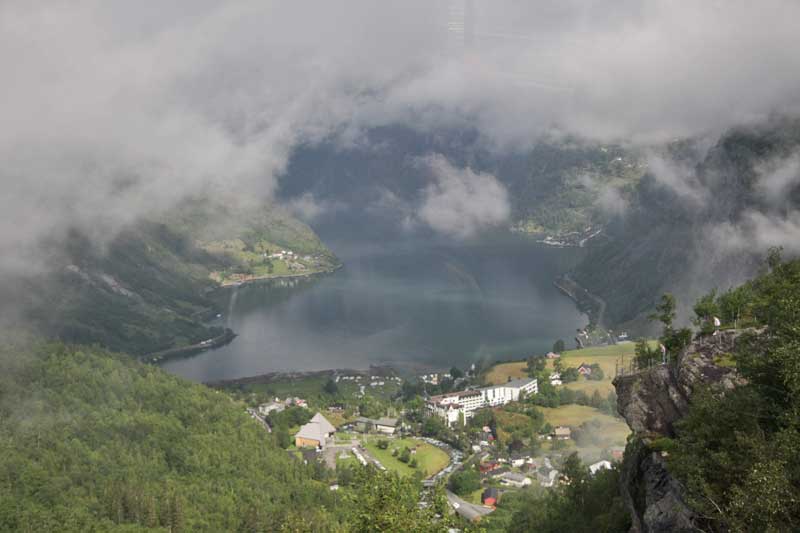 ---


Another "fun with the telephoto lens" moment as we zoom in on Geiranger and the Hotel Union.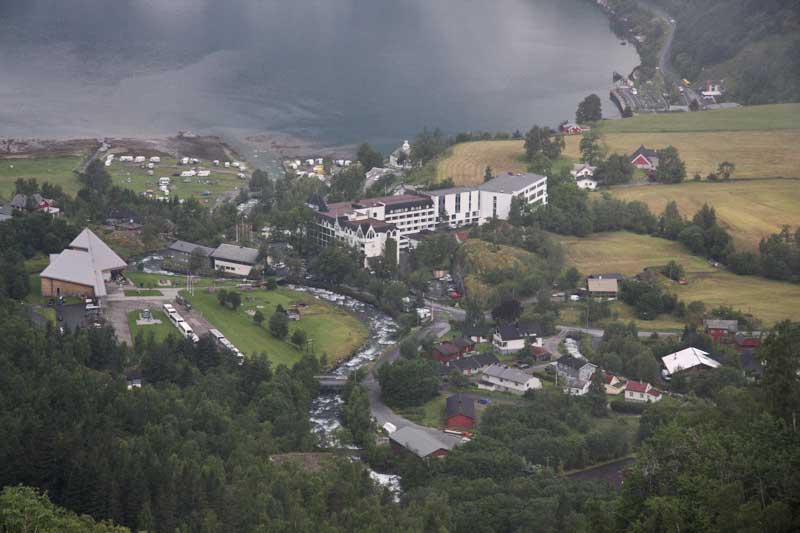 ---


More beautiful scenery as we drive along the "roof of Norway" on our way to the village of Lom (Hwy 15).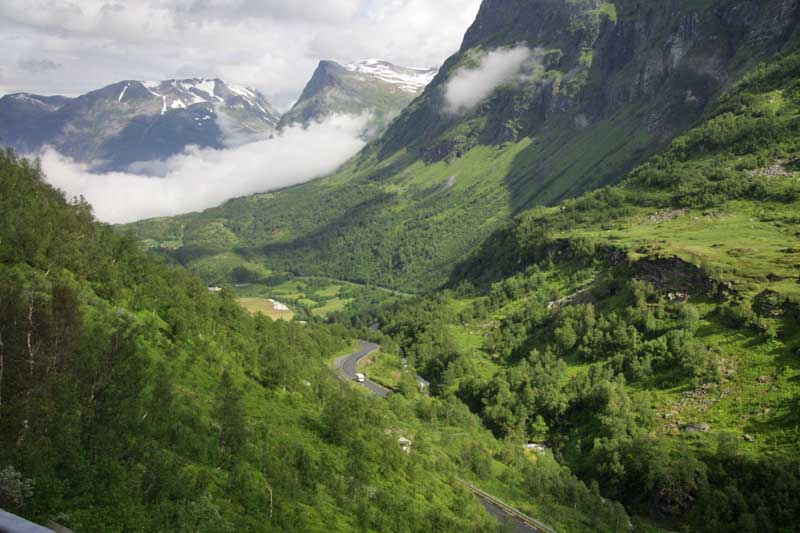 ---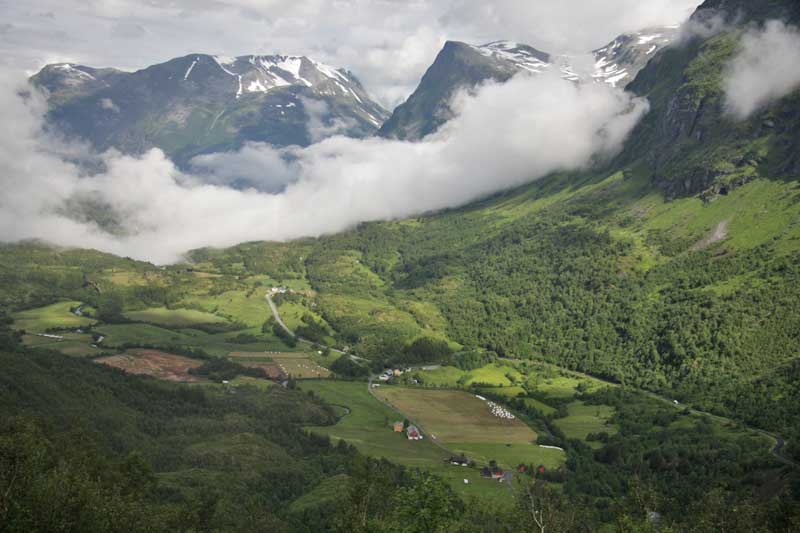 ---


Oh no! What shall we do? We knew this would happen somewhere along the way.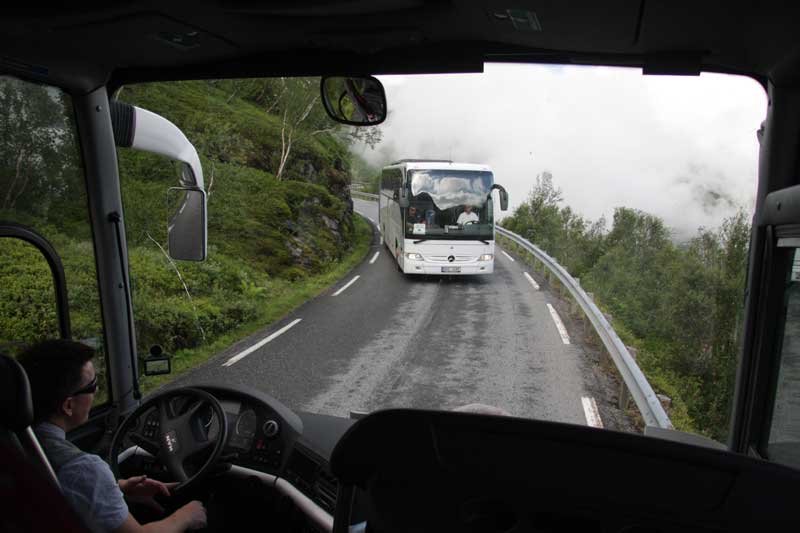 ---


There really isn't room enough for two buses on this road. Something has to give.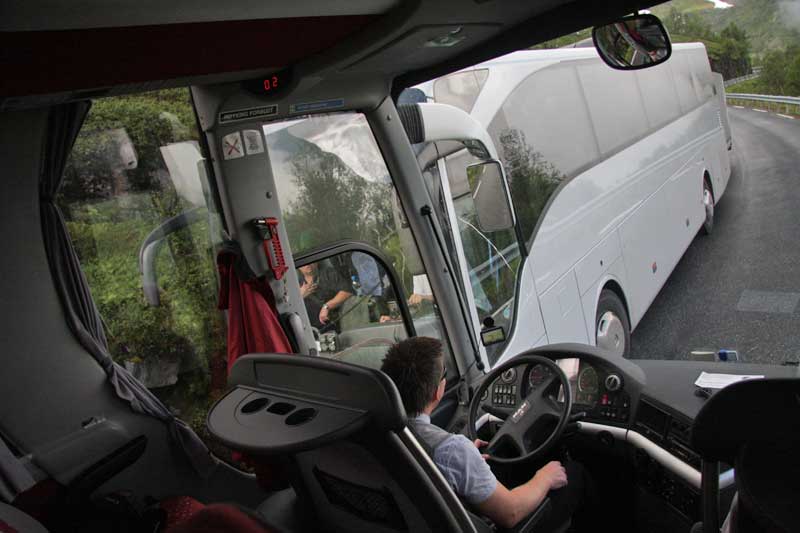 ---


Our driver, Rydar, says, "You didn't know that I smeared bacon grease on the sides
of the bus this morning, knowing we would be in this situation sometime today!".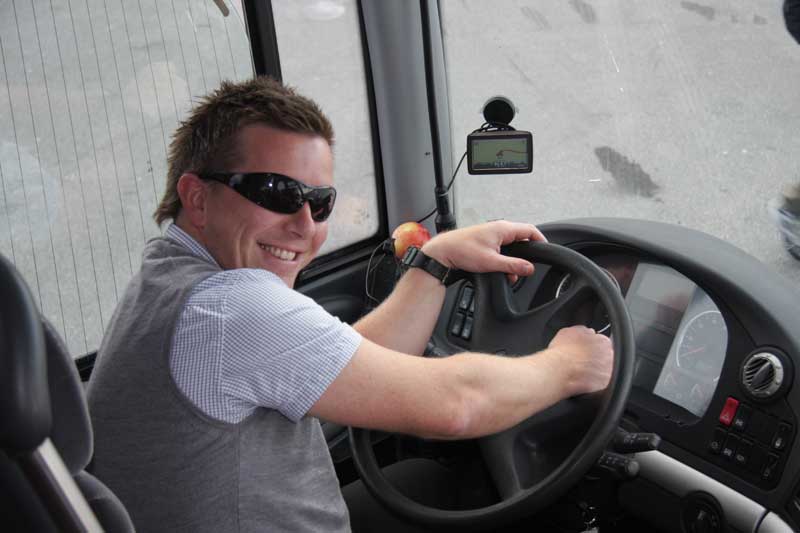 ---


Having managed to stay on the road, we see more gorgeous scenery on our way to Lom.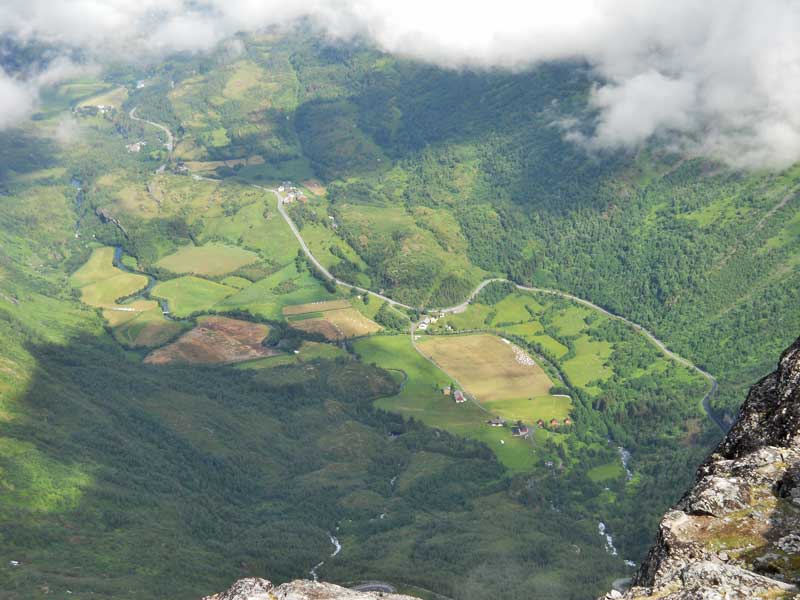 ---


Here they are again ...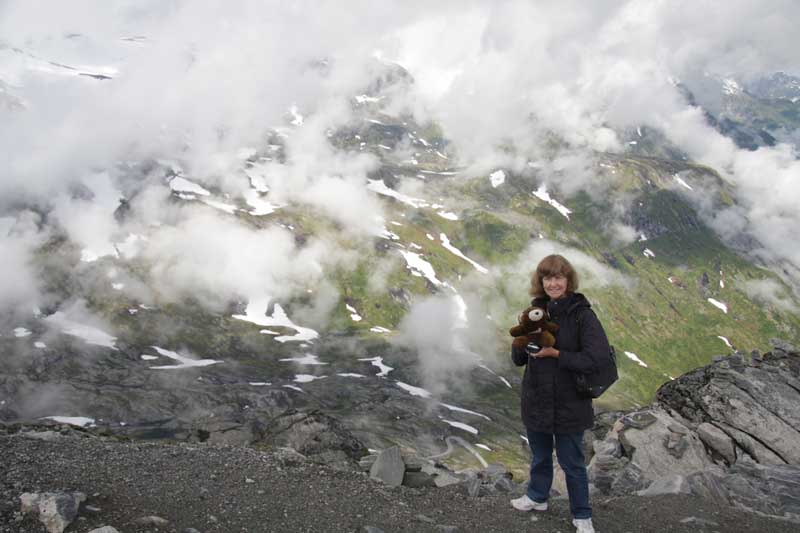 ---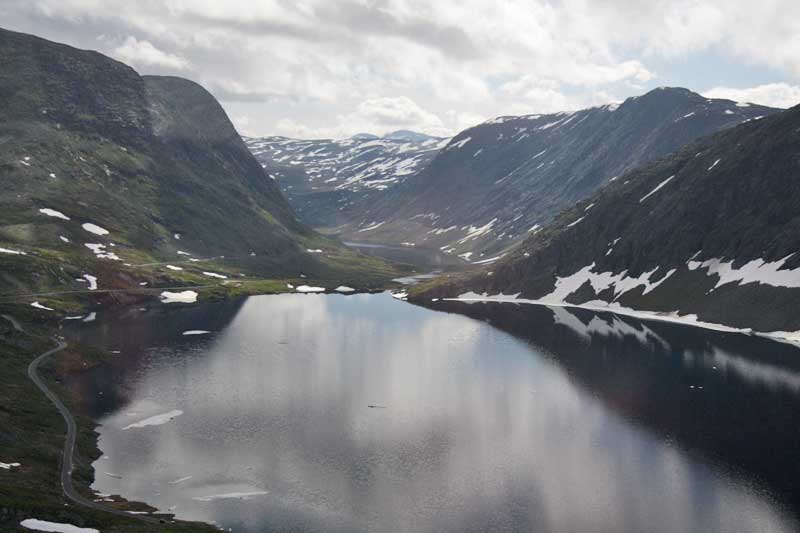 ---


We arrived in Lom (July 8th) and had lunch there. We're heading east now on Road 15,
away from the fjords and toward Oslo again. We will arrive in Oslo tomorrow.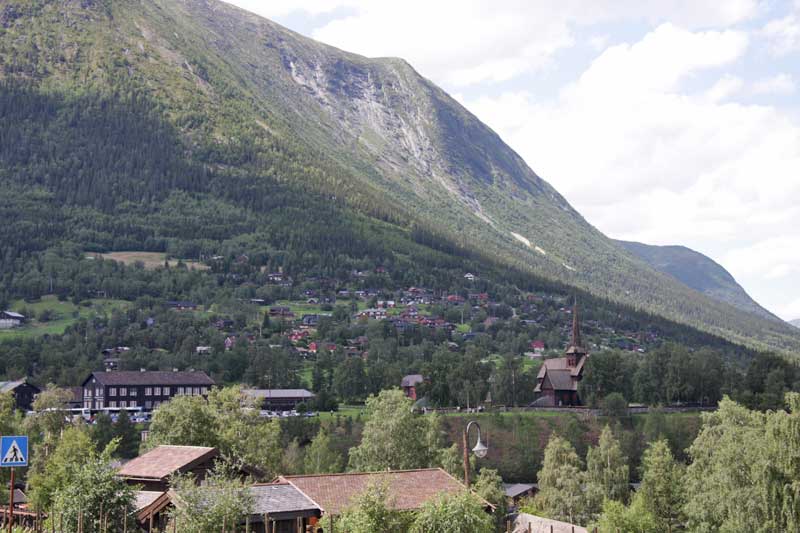 ---


This "stave" church, in Lom, was a product of Viking designers/artists during the Middle Ages. The original
church is thought to have been built in 1158 and has been rebuilt or remodeled several times since, the latest
being in 1973. "Stave" means "post", referring to the vertical post as the load bearing part of the construction
style. At the time, most large cathedrals throughout Europe were built with stone, but the wooden stave
churches originated as unique designs only in Norway.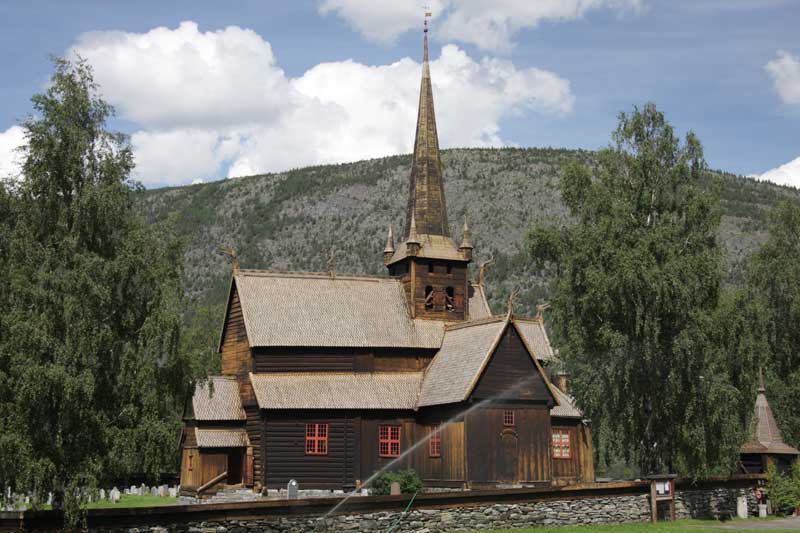 ---


After a long day of riding in the tour bus, Don settles in for a pre-dinner cocktail party.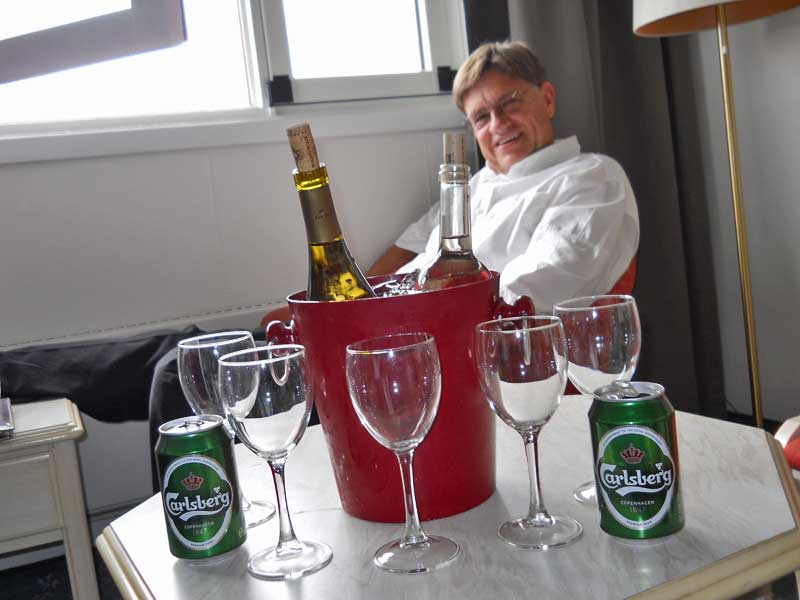 ---


What a happy group! (I think they're happy just to be off that bus.)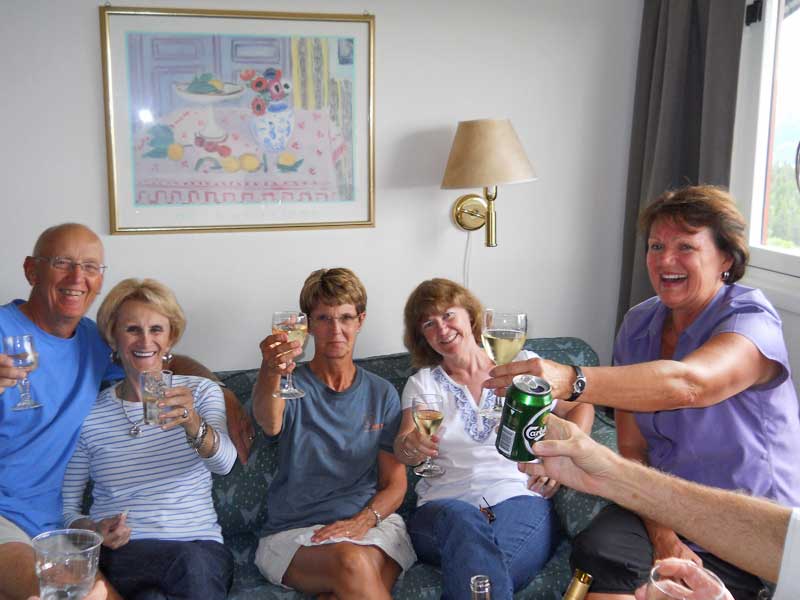 ---


The other half of the room tries to out-happy the first half!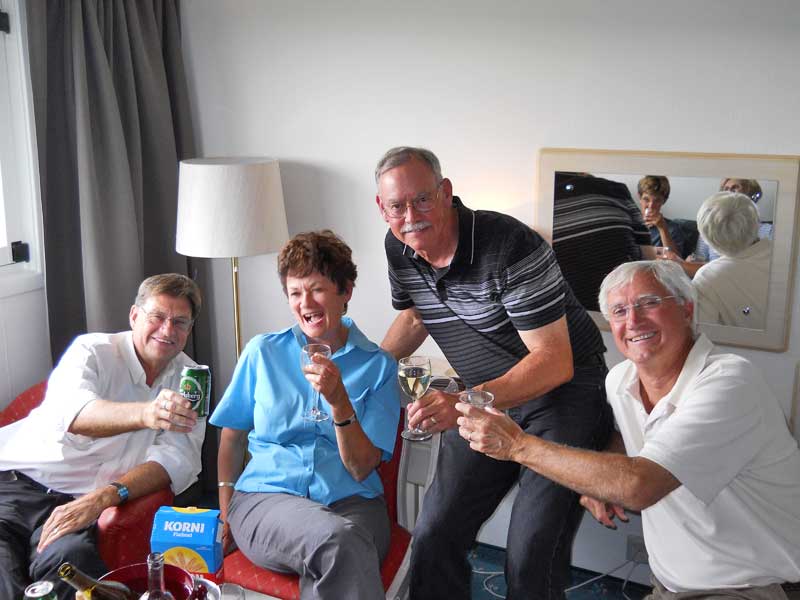 ---


This is the drive along the Gudbrandsdal Valley as we approach the famous Olympic town of Lillehammer.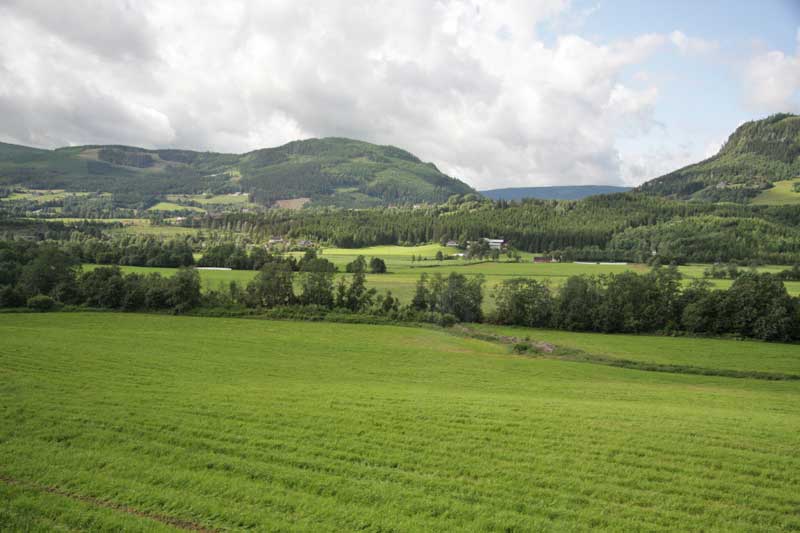 ---


The grasses and grains produced in the valley are stored in the white "pillows", lined up for storage.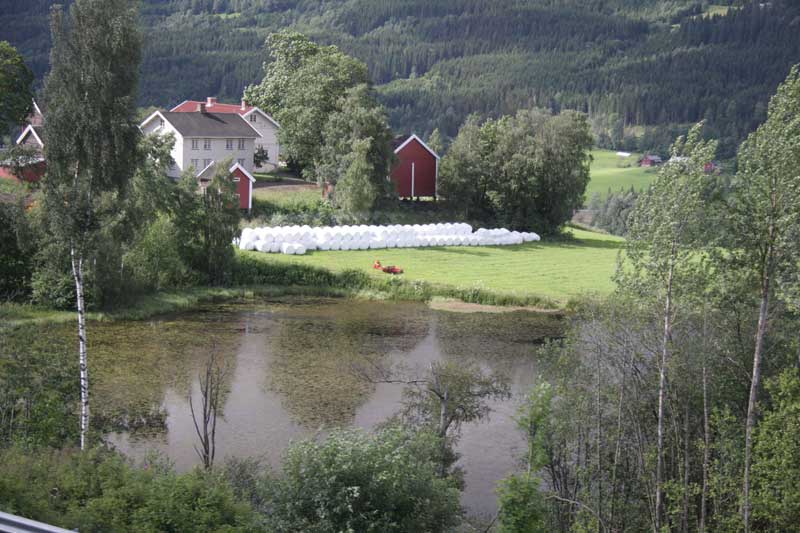 ---


We arrive in Lillehammer, site of the 1994 winter Olympics!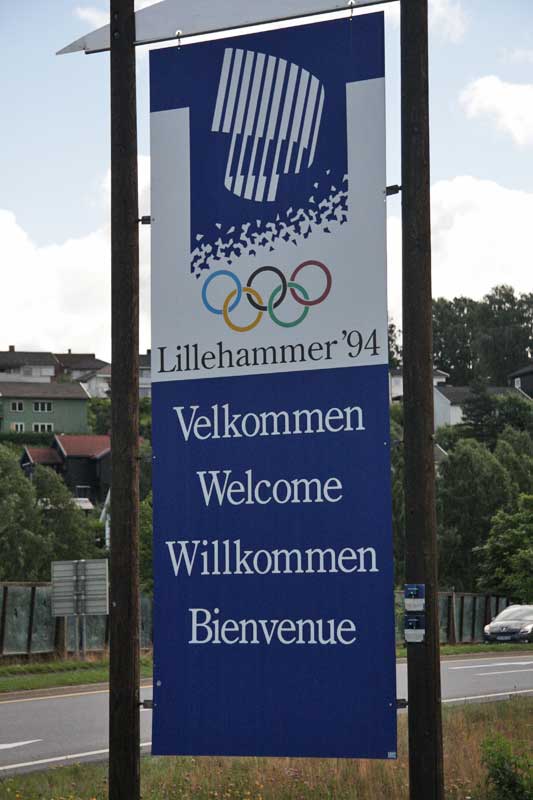 ---


The Olympic ski jump is active during the summer, too. There are sprinklers
that water down the landing surface, making it slick for the jumpers to land smoothly.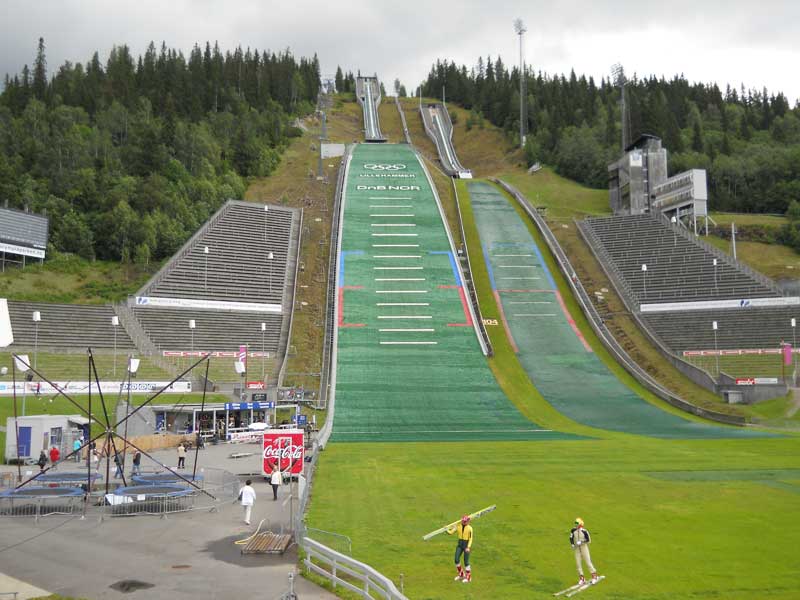 ---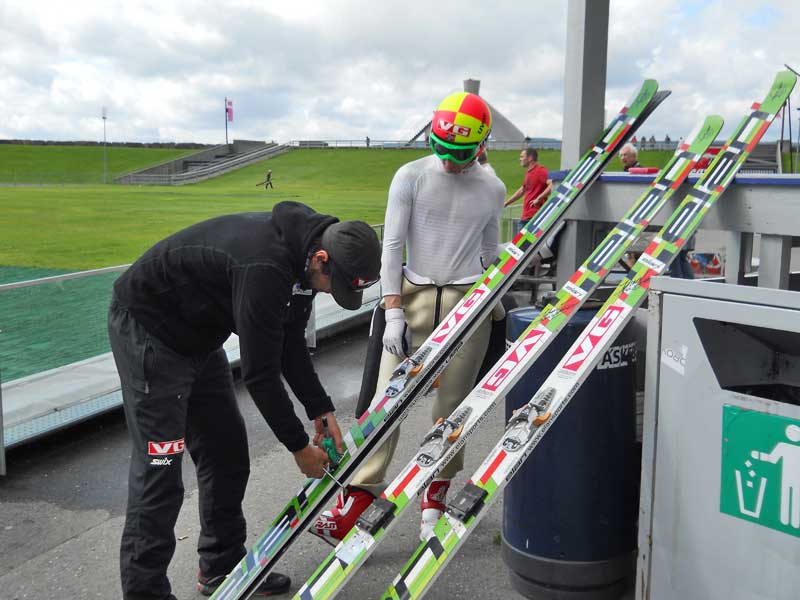 ---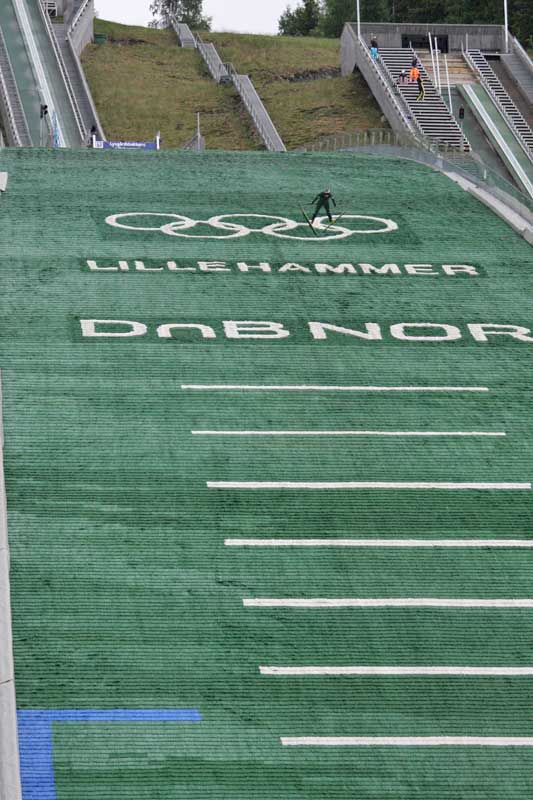 ---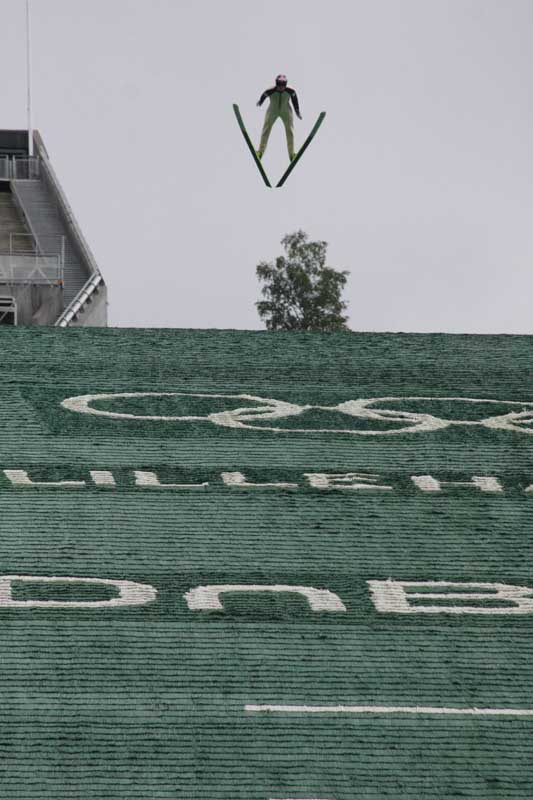 ---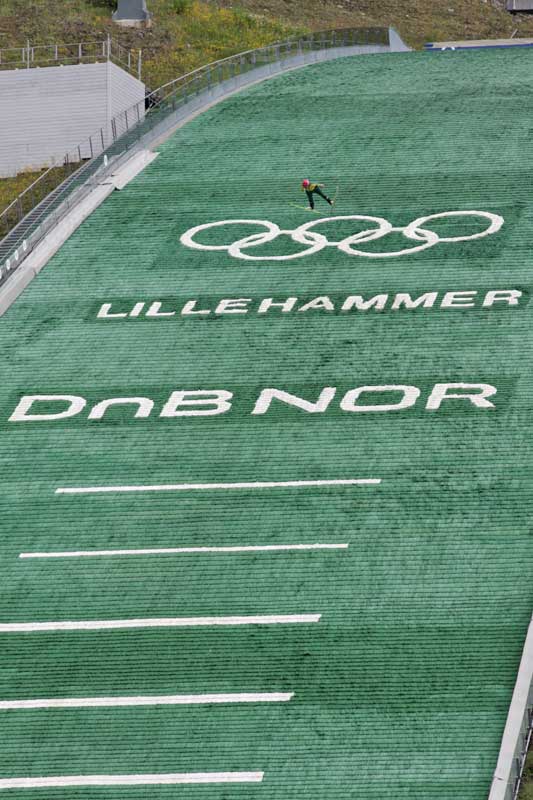 ---


Near the top of the lift is a horizontal bar where you can see a skier sitting,
waiting to go. It's still amazing to see this happening when there is no snow!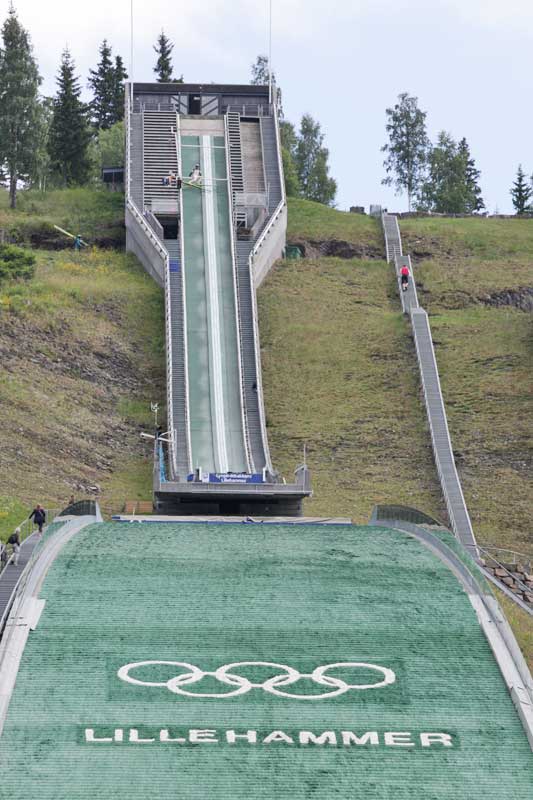 ---


The town of Lillehammer (pop. 27,000), which will host the 2016 Youth Winter Olympics.
Now let's move on to Oslo!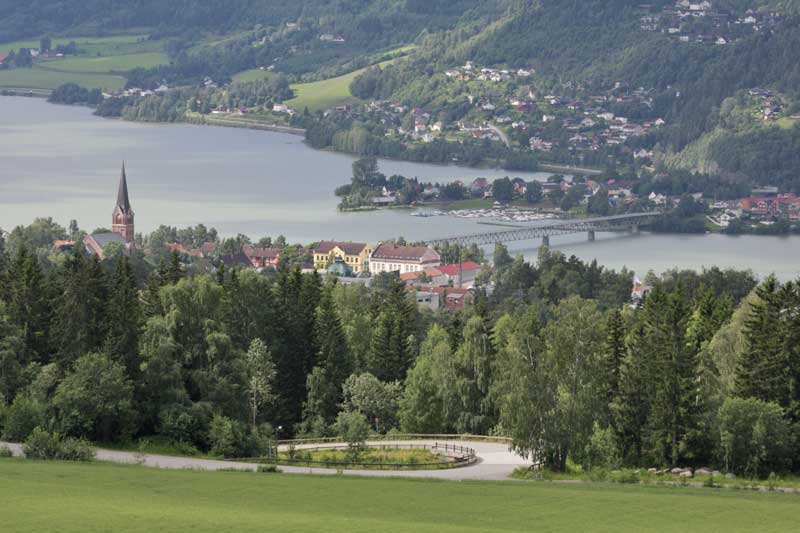 ---
Click to view Oslo.
Return to top level