Bergen, Norway
---
We arrived in Bergen in time for dinner at the hotel, after which we decided to get some exercise, so we
walked to ... Scruffy Murphy's Irish Pub! Surely a great place to exercise one's elbow. We met some
interesting people there including this gentleman who joined us with his glass of wine. He did the best
he could to communicate with us in his broken English (which was much better than our broken Norwegian!).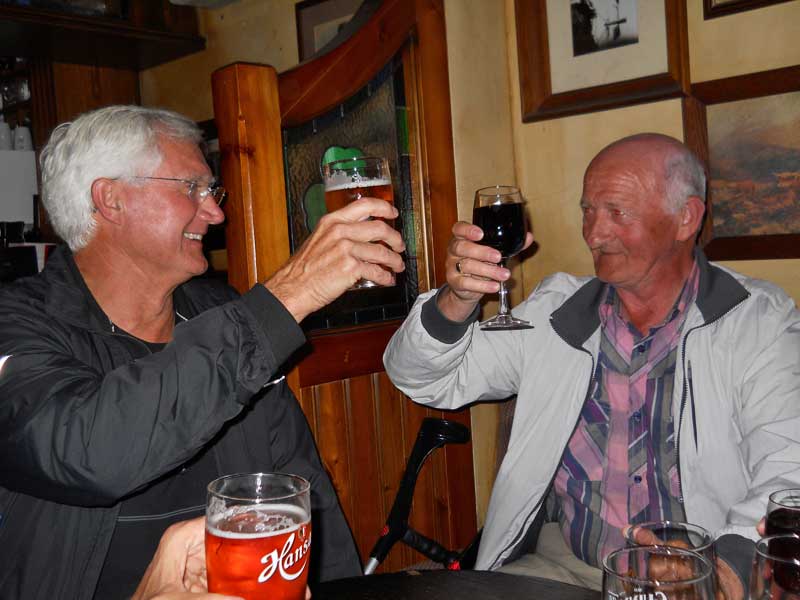 ---


He really seemed to take a liking to Mavis, who was such a good sport
about it all. I don't think this is what she had in mind when we
said we were going out for some exercise. More about exercise later ...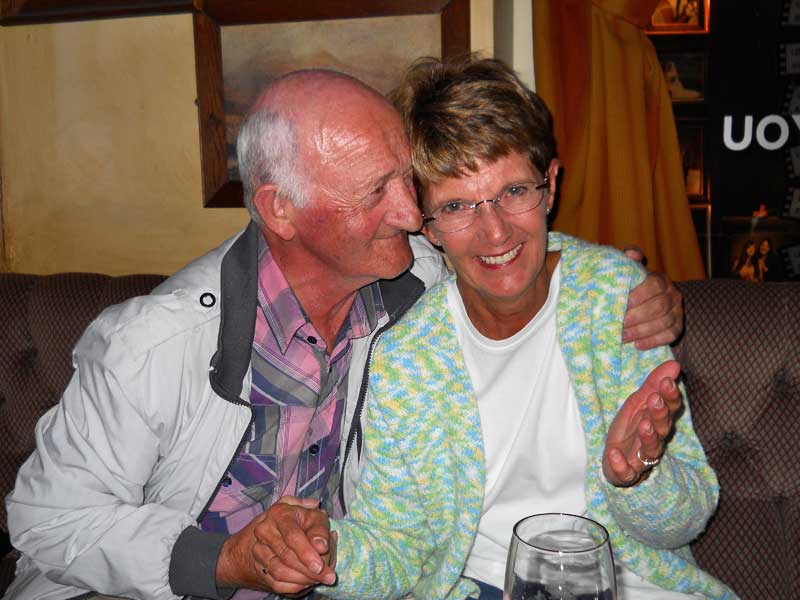 ---


Our bus tour of Bergen began with a distant view of Gamlehaugen Castle, which
is the Norwegian royal family's residence when they are in Bergen. Hardly ancient,
the construction of this castle was completed by a private citizen in 1900 in the
Scottish baronial style. The government purchased the property in 1925 and it is
now open to tourists when the royal family is not in residence.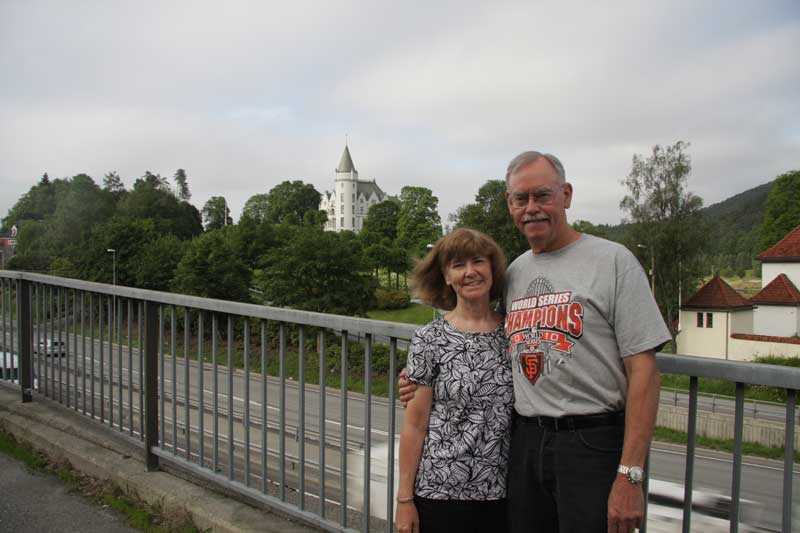 ---


We visited the estate of the great Norwegian composer and pianist Edvard Grieg (1843-1907).
Grieg is best known for his Piano Concerto in A Minor, for his "incidental music" to Henrik
Ibsen's play "Peer Gynt", and for his collection of piano miniatures "Lyric Pieces".
His home (Troldhaugen) is pictured below and the site also features the Edvard Grieg Museum, the
hut where he composed his music, and the gravesite of Edvard and Nina Grieg. The home
is a typical 19th century residence with a panoramic tower and a large veranda.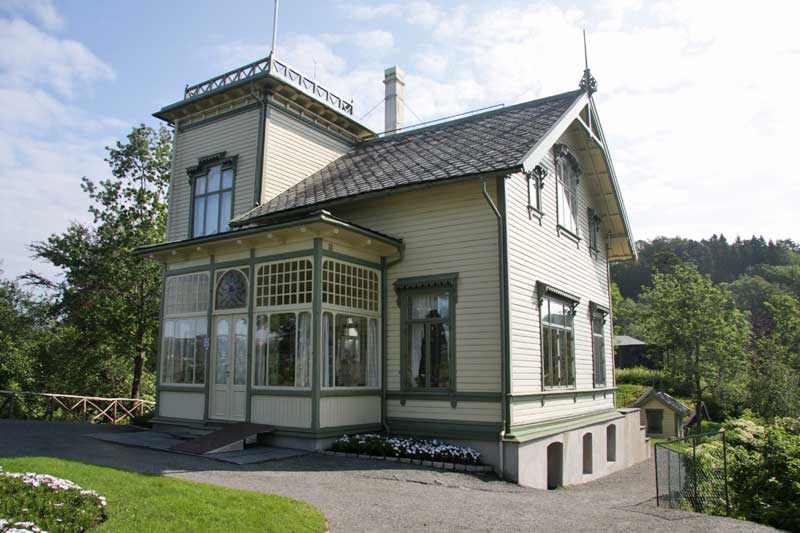 ---


The estate overlooks the beautiful Nordaas Lake in Bergen. We toured the home
and the museum and decided that if we were under enough pressure, we could live here, too (!)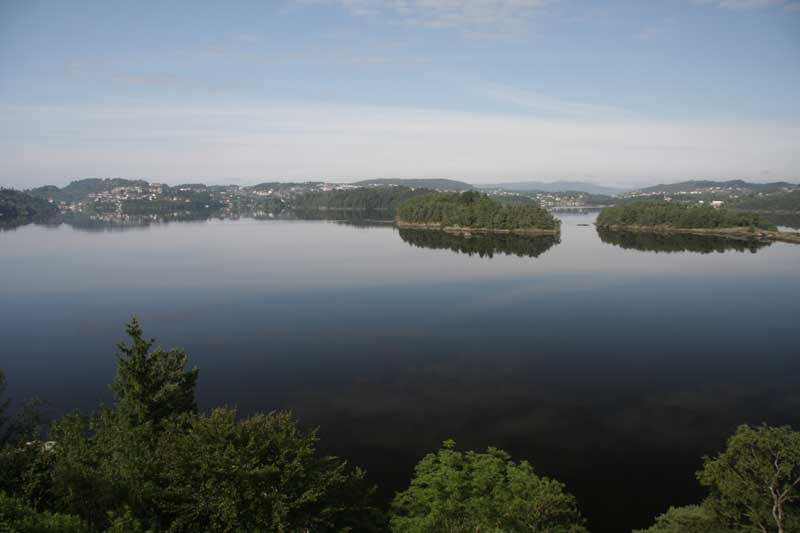 ---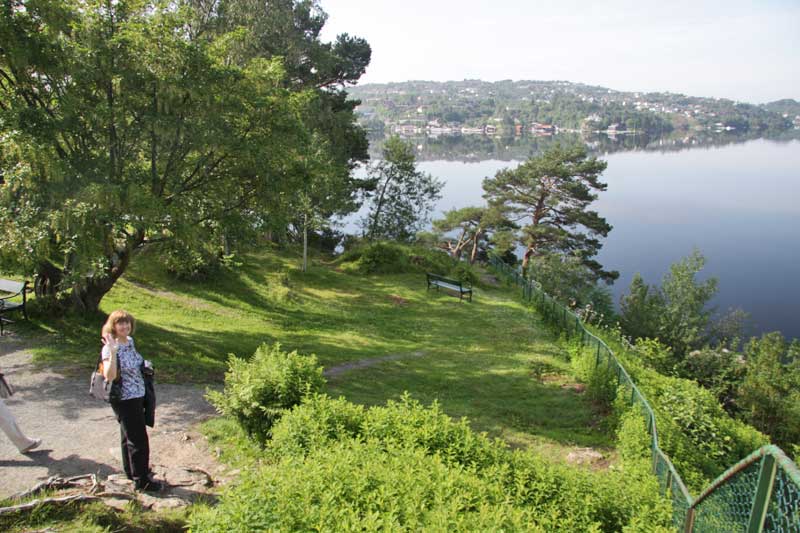 ---


This is Grieg's hut where he derived so much inspiration to write some of his classic works. Since our work
locations don't even resemble this scene, we decided that under these circumstances we could also compose music!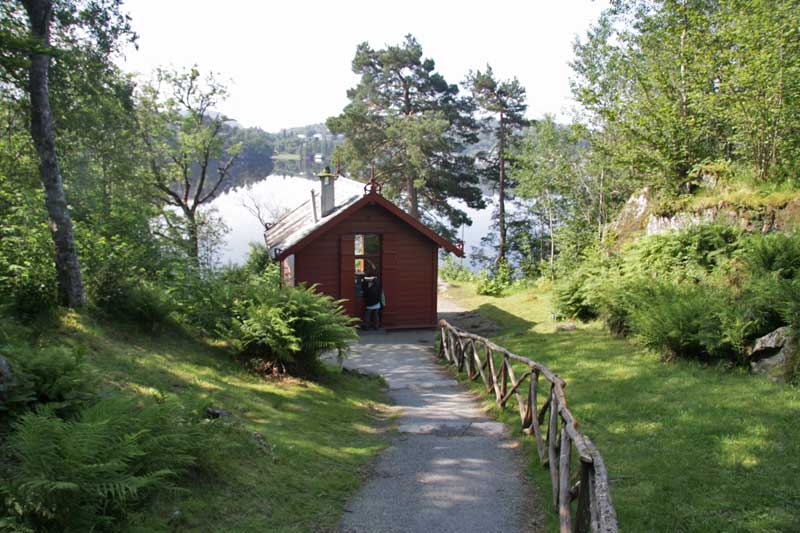 ---


The main harbor area of Bergen is alive with commerce, tourism, and just plain fun.


---


We toured the fish market on the waterfront and I don't recall seeing this product at our fish
markets at home! At today's price (Feb., 2012), this is selling for about $31.50 per pound.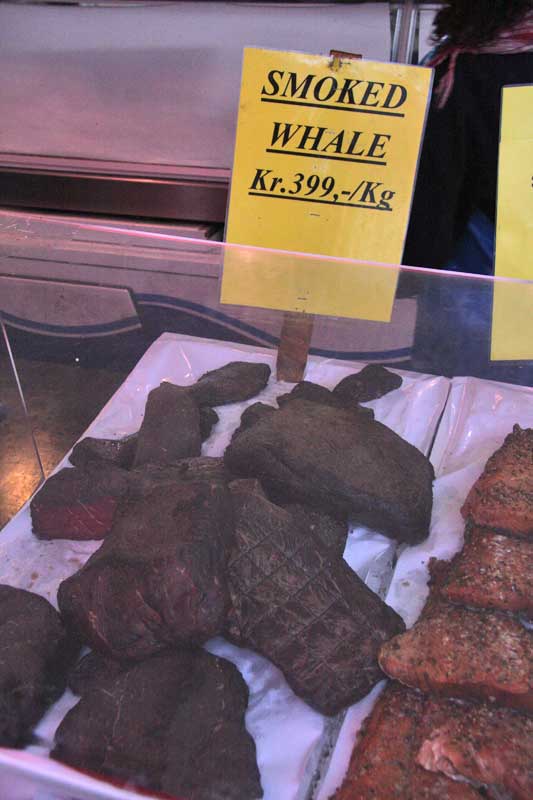 ---


There was certainly no shortage of salmon ... or anything else at this well stocked market.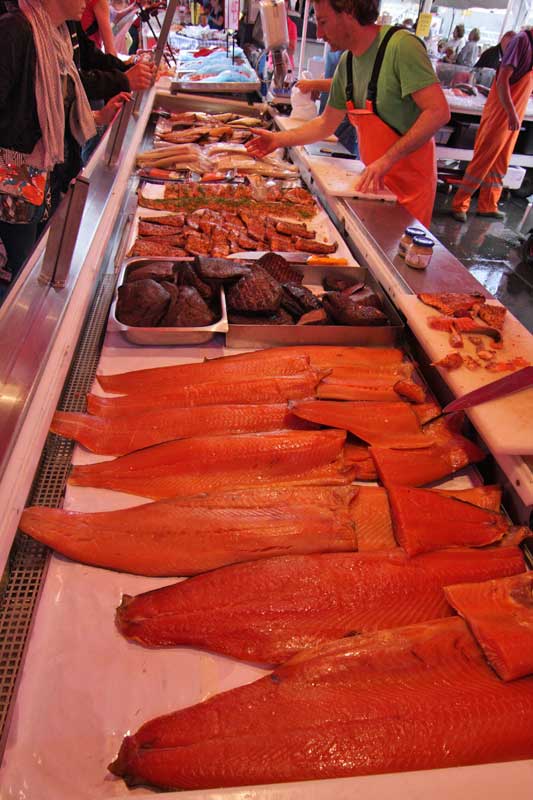 ---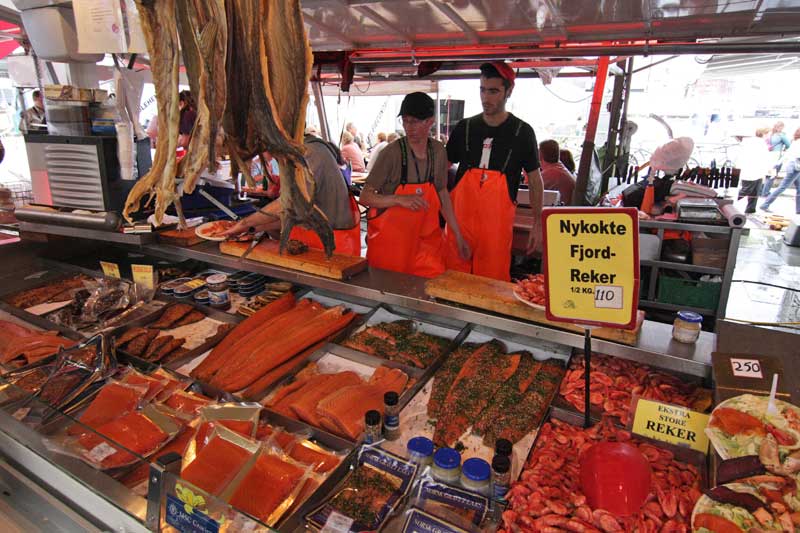 ---


This is the Bryggen (Norwegian for "The Wharf") area of the Bergen waterfront. Bryggen is a series of Hanseatic
(alliance of trading cities and their merchant guilds, 13th to 17th centuries) commercial buildings along the
eastern side of the fjord coming into Bergen (founded in 1070). Bryggen was placed on the UNESCO list for World
Cultural Heritage sites in 1979 and today houses tourist, souvenir and gift shops, restaurants, pubs, and museums.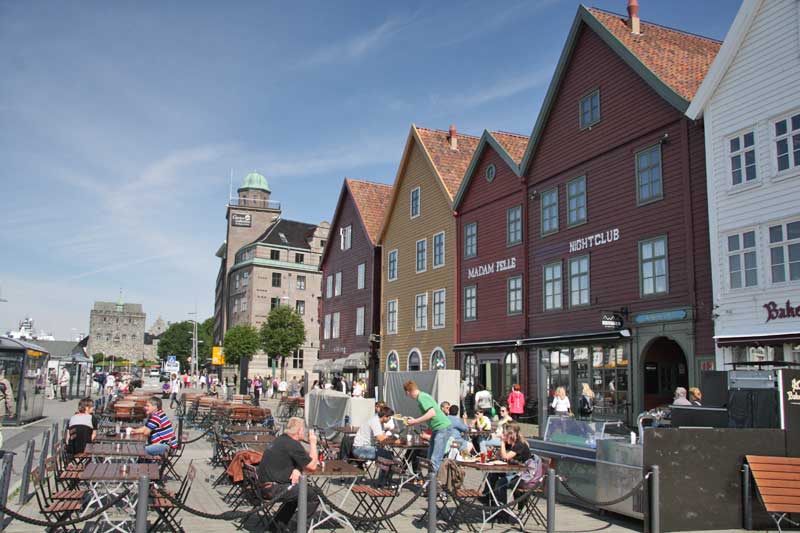 ---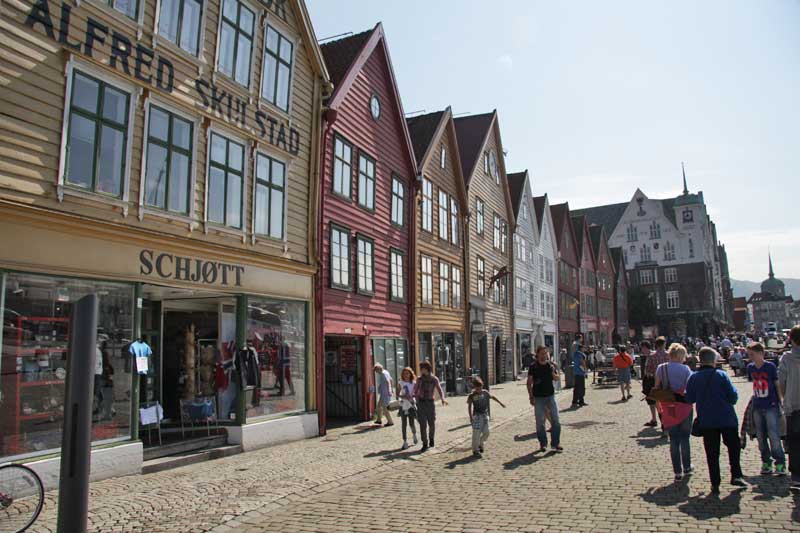 ---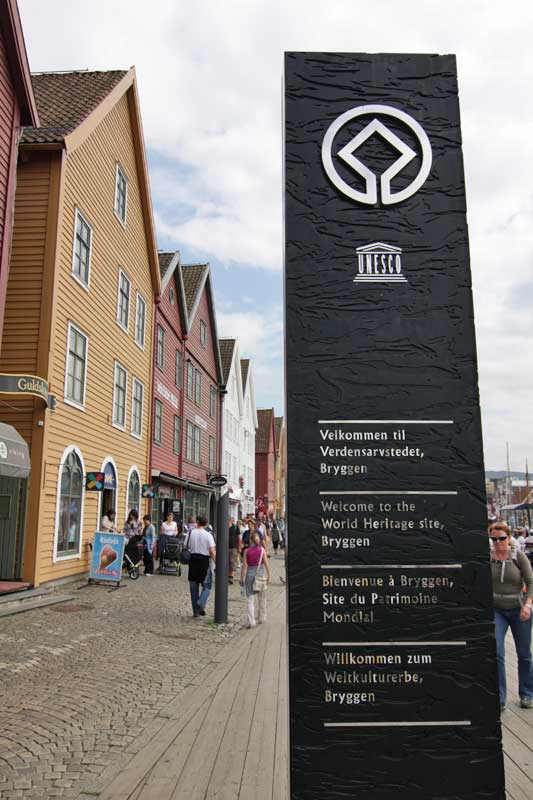 ---


Bergen and the Bryggen have suffered many fires over the centuries, the latest large fire happening in 1955.
So most of the buildings in the Bryggen are now modern structures, built in the architectural style of yesteryear.

<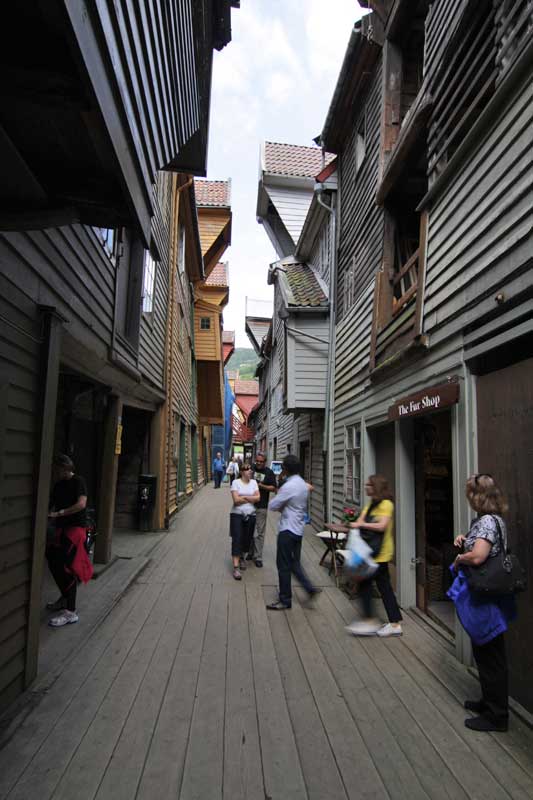 ---


Moose kisses ...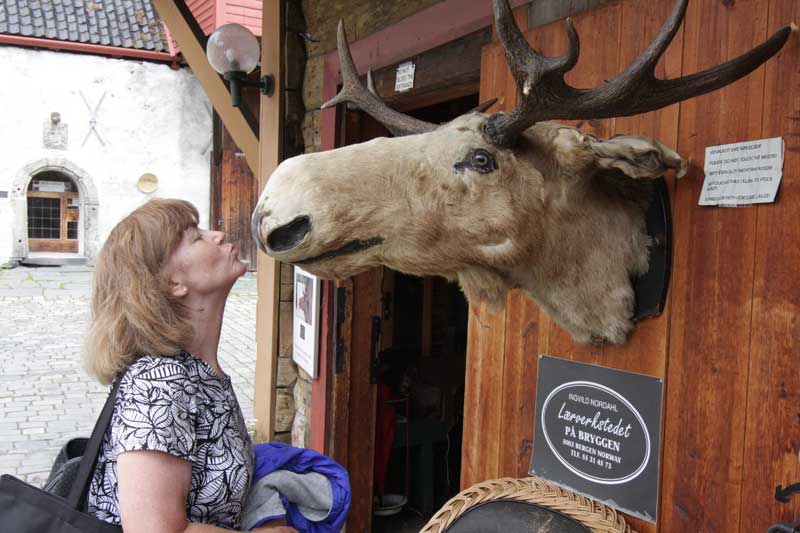 ---


I wonder if locals ever come to the Bryggen. Probably not, it's priced for tourists.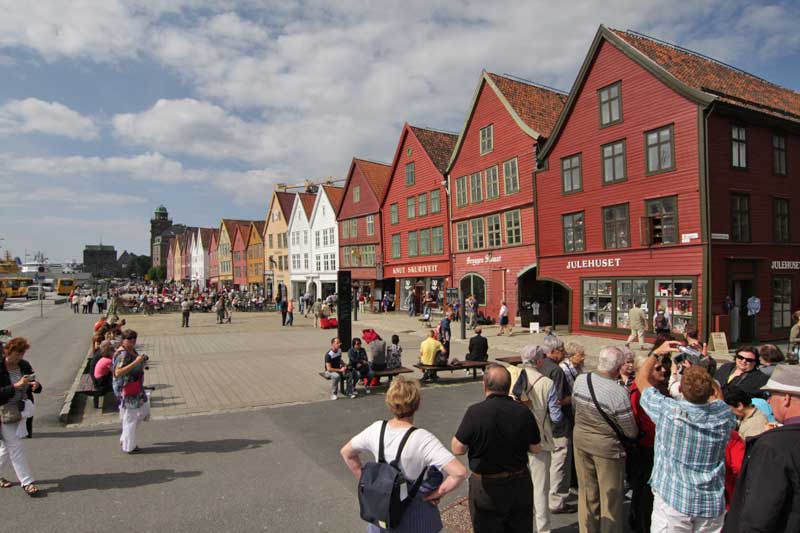 ---


Not all of Norway's beauty is found in the fjords, the waterfalls, and the spectacular mountain scenery.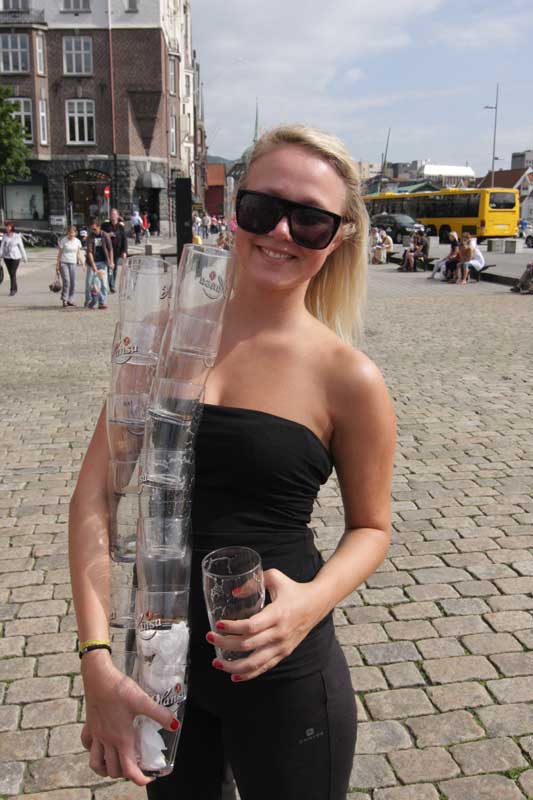 ---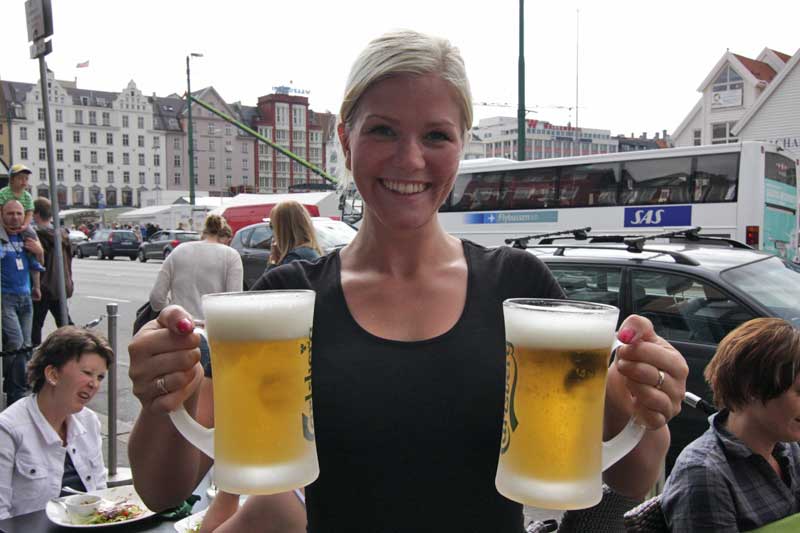 ---


The area around our hotel was very scenic as well, with parks, a lake, and mountain views all around us.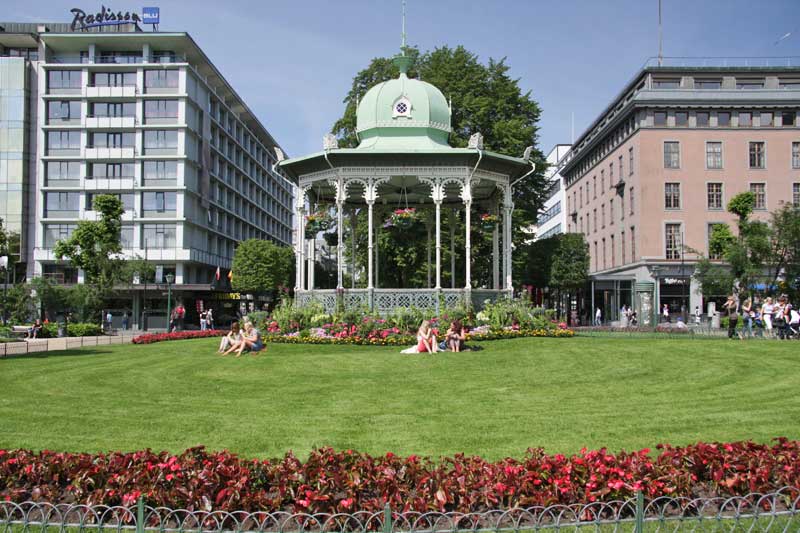 ---


Here is that same tourist, carrying a bear around, that we saw earlier. She's everywhere!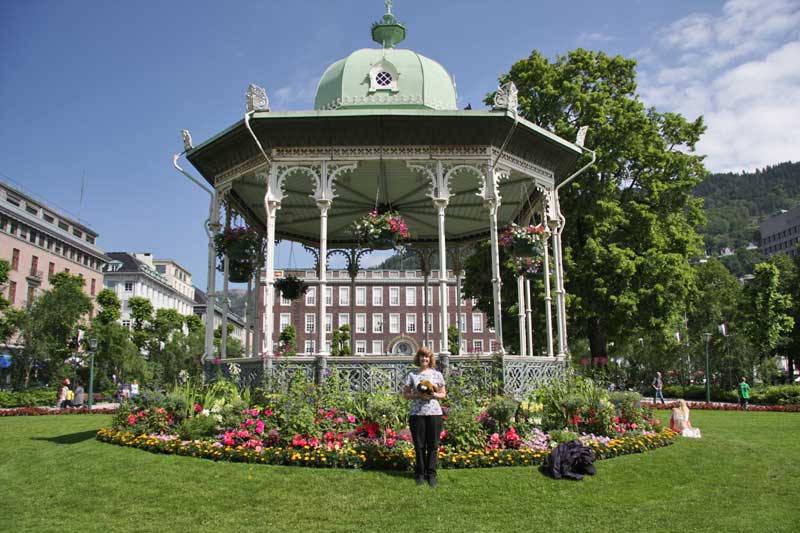 ---


Looking in the opposite direction from the gazebo, we see a lake and a
fountain, which we'll see again in an aerial view from a hilltop.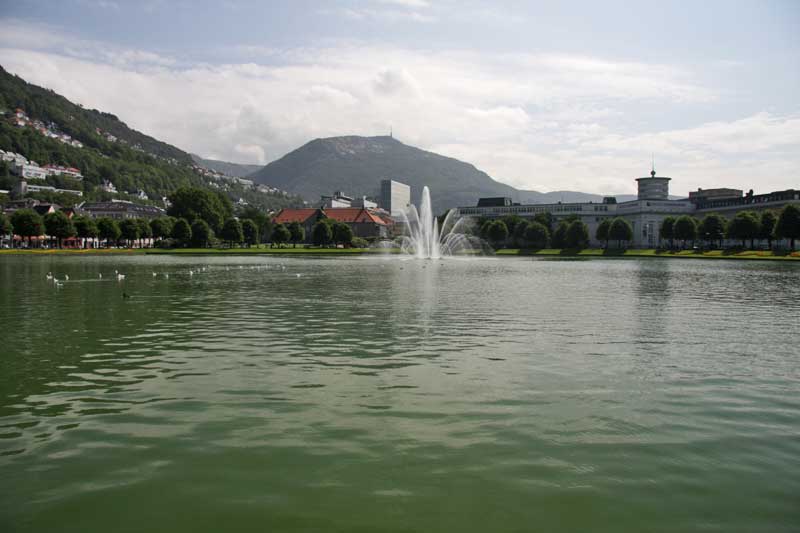 ---


This is the hilltop, seen in the top-center, where there is a building and a path downward
through the trees. Four of us took a one-way "funicula" (tram) trip to the hilltop, took a
few pictures of the city of Bergen, then walked down to the bottom (what were we thinking?!).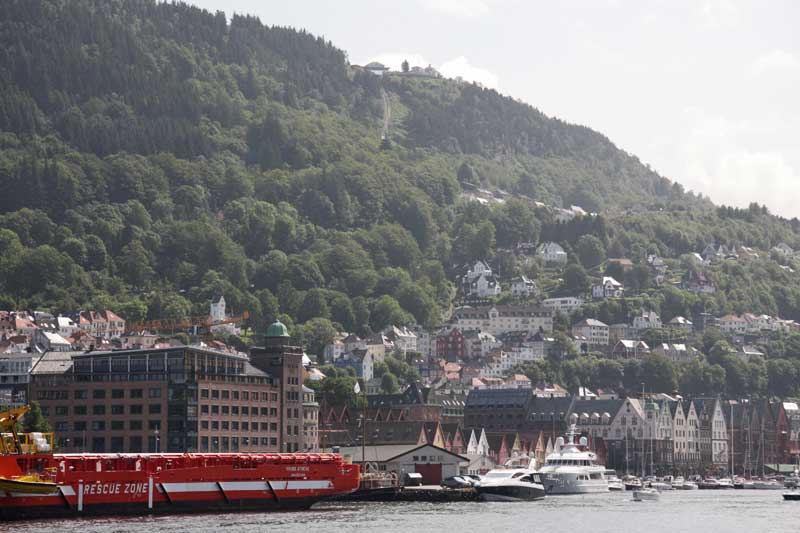 ---


Part of the city of Bergen from the hilltop.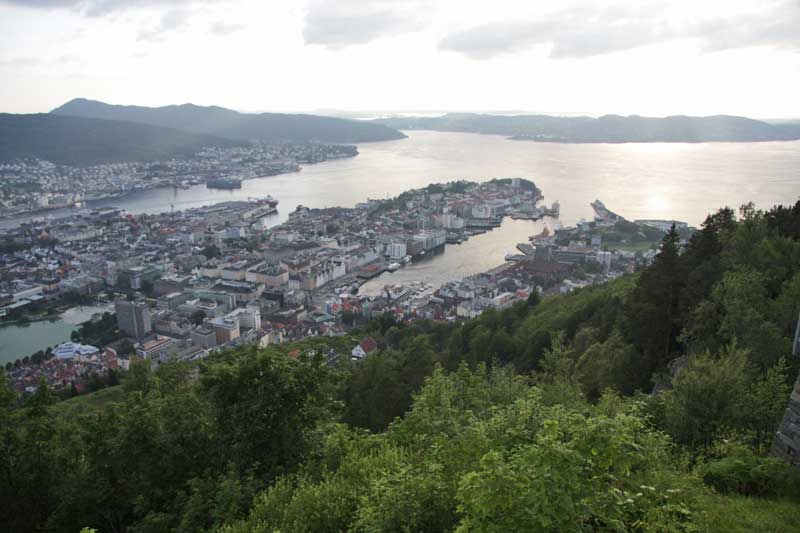 ---


This is a close-up of the harbor showing the locations of the fish market and Bryggen, that we saw above.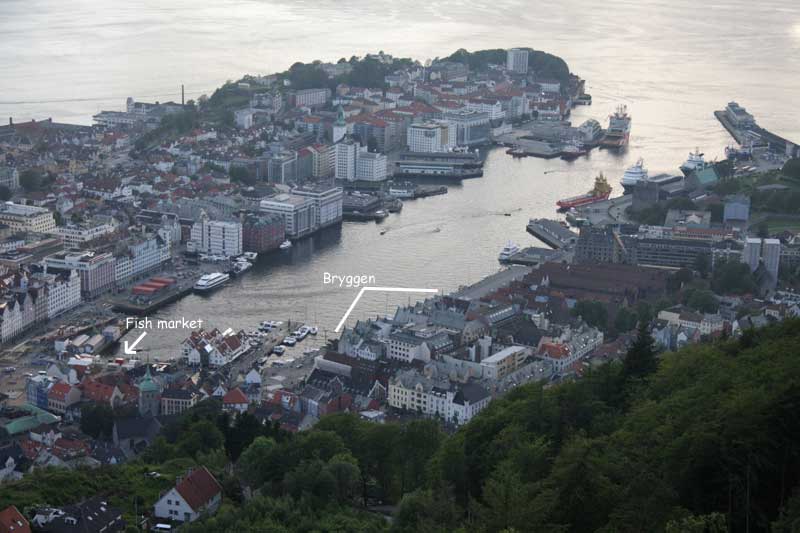 ---


In the lower-center are the lake and fountain seen in a previous picture.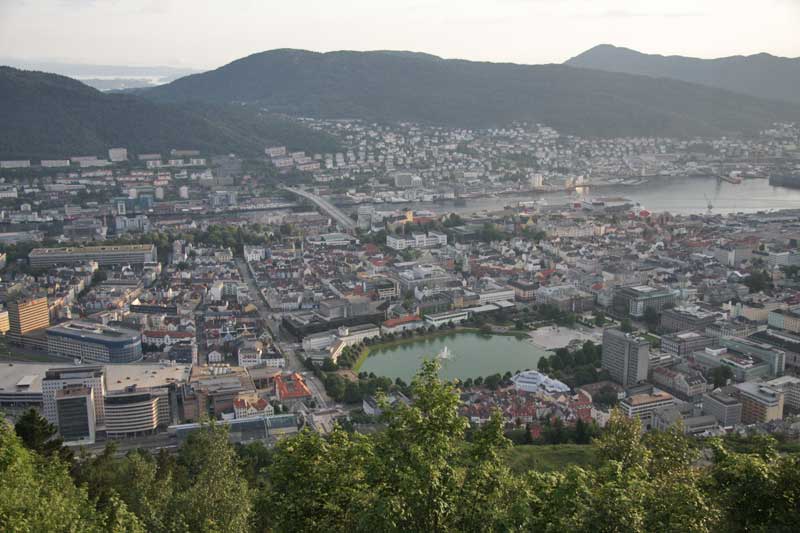 ---


This is nothing more than "fun with a telephoto lens".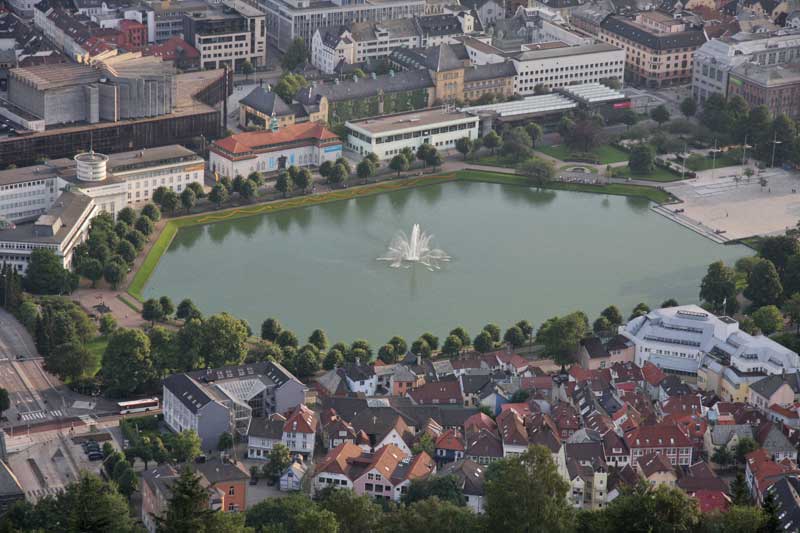 ---


Well, if it isn't John and Mavis! It was Mavis's idea that we take the funicula up here ... then
walk down. I think she was getting back at us for that last bit of "exercise" we got at the pub.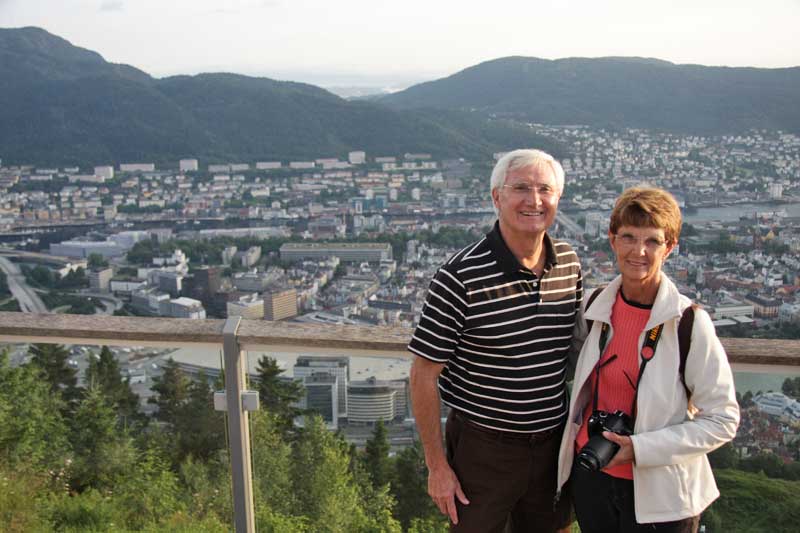 ---


The other half of Bergen as it stretches out to the south.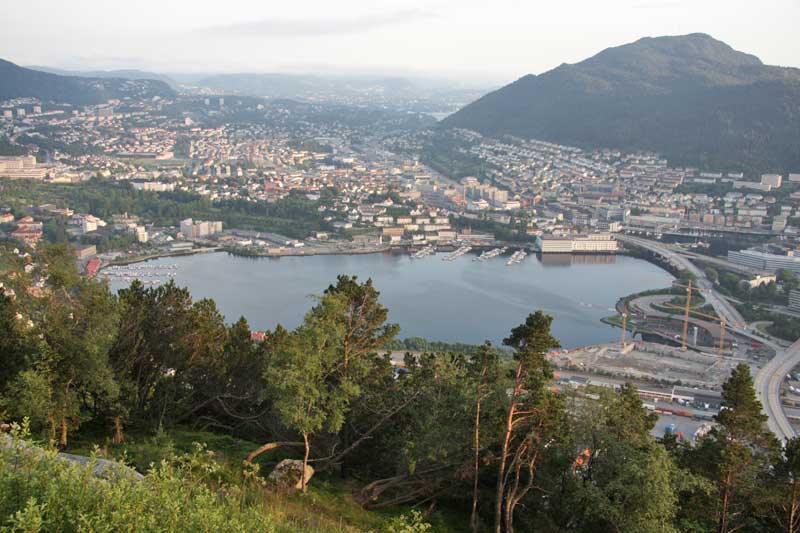 ---


A beautiful late evening sun accompanies us as we walk down from the hilltop back to our hotel.
Tomorrow we leave Bergen, traveling north and eastward as we slowly work our way back to Oslo.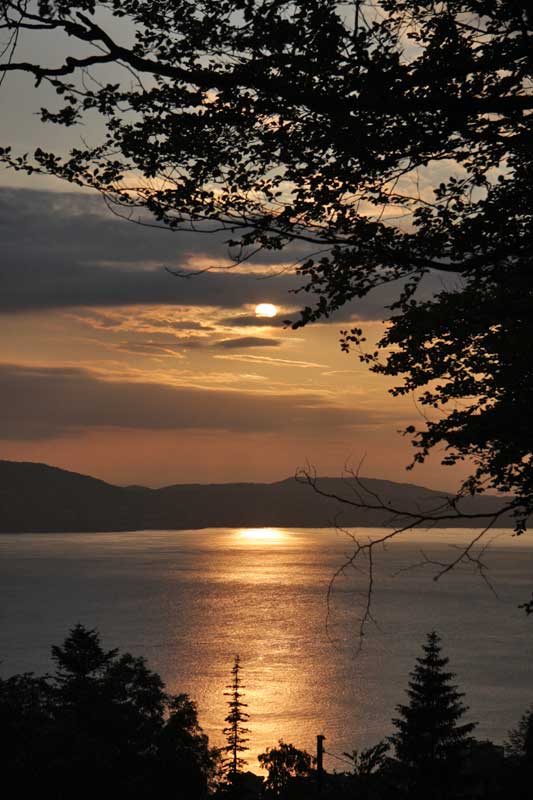 ---
Click to see the journey to Oslo.

Return to top level