Dublin 2010
---
Mary and I visited Ireland with an excellent tour company called Odysseys Unlimited, featuring
small-group tours. We had 22 people on our tour and possibly one of the world's best guides,
Gerry O'Brien! This was Mary's "heritage tour", giving her some insight into the Sheehan (her
maiden name) side of her family. We began by arriving in Dublin late-morning after taking the
red-eye from Chicago. That first day we all spent time recovering from the travel and by walking
about in the area around our hotel. Our first official gathering as a group was at dinner that evening.


The map below shows the areas we visited in Ireland. The places featured are shown by number:
1) Dublin, 2) Clonmacnoise, 3) Galway City, 4) Aran Islands, 5) Connemara, Kylemore Abbey, 6) Cliffs of Moher,
7) Killarney, 8) Ring of Kerry, 9) Blarney Castle, 10) Rock of Cashel, 11) Kilkenny, 12) Irish National Stud.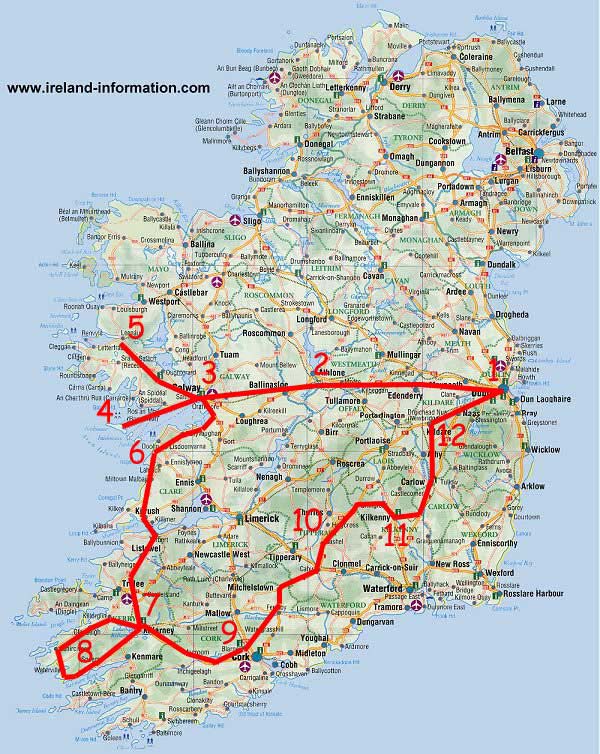 ---


We strolled up and down Grafton Street, an area very popular with tourists. We were very surprised
to see that both McDonalds and Burger King were crowded. We looked for a different lunch option.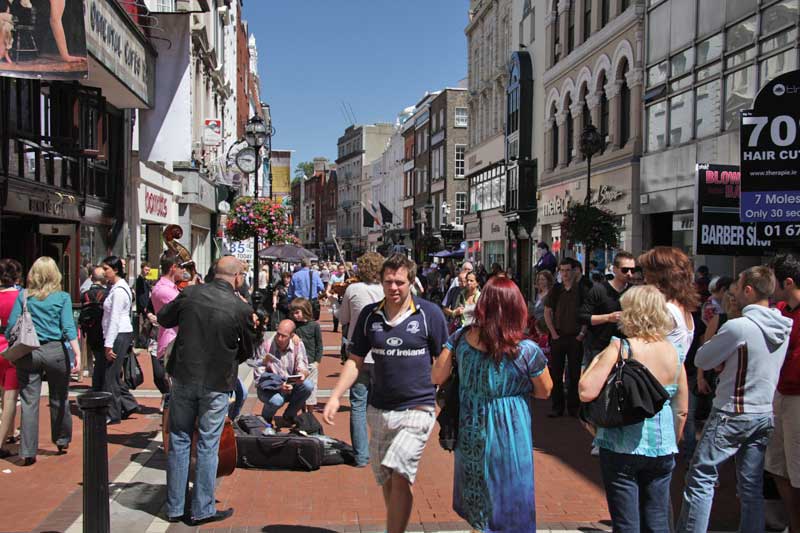 ---


Mary poses with the statue of Molly Malone, a well-known mythical figure in Dublin history with a somewhat
"colorful" past. The statue has acquired various nicknames throughout the years, like "The Tart With The Cart",
"The Trollop With The Scallops", "The Dish With The Fish", and "The Flirt With The Skirt".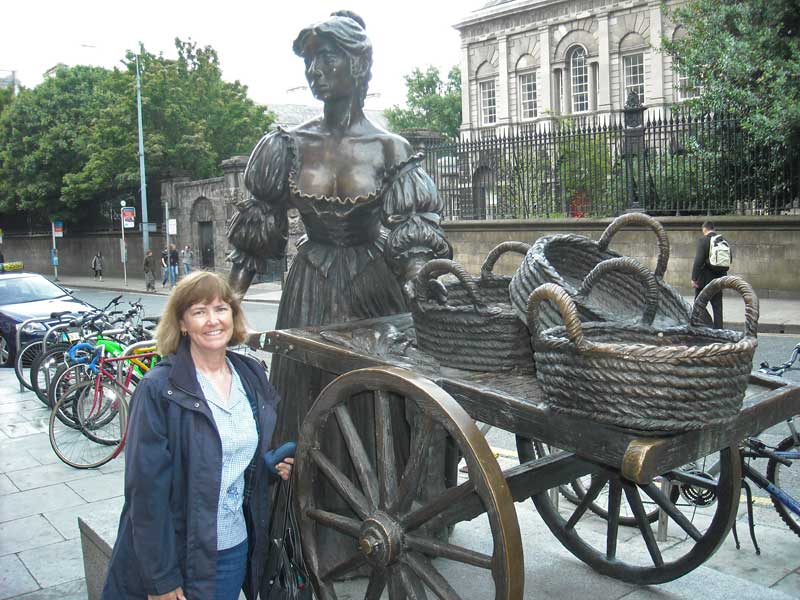 ---


While on a walking tour through St. Stephen's Green, a park across the street from our hotel,
we came upon a bust of James Joyce, one of the most influential authors of the early 20th
century, and a native of Dublin. It has been said that roughly 25% of the people who say they
have read "Ulysses", actually have not. They do so just to impress their friends and acquaintances.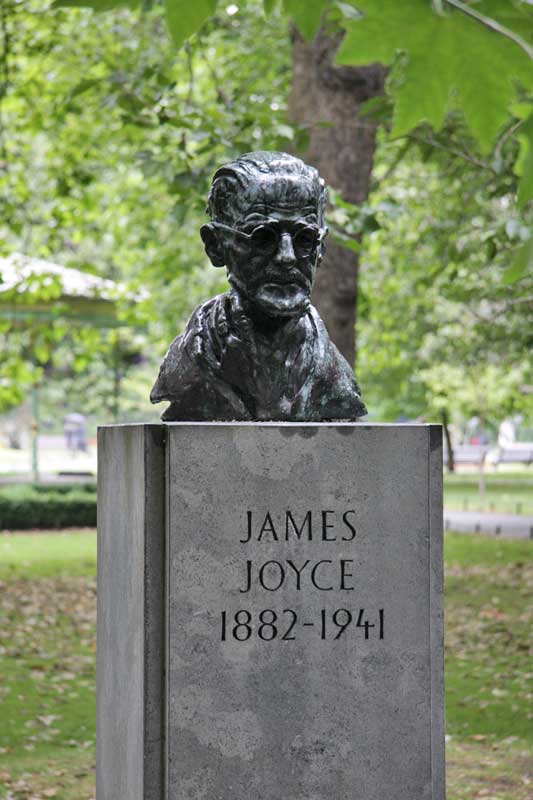 ---


Our tour group gathers for a meet-and-greet where we introduce ourselves and sample some of Dublin's
refreshing beverages. The most popular beers in Dublin are Guinness and Smithwick's (pronounced "Smittick's").
It's interesting how beers are regional in popularity. In Dublin, Guinness is, by far, the most
dominant and you never see it poured in a glass that does not say "Guinness" on it. As you travel
away from Dublin, other beers are more popular, often due to competing breweries in local cities and
counties. To my left, our friends Don and Mary Ross (North Carolina), convinced us to join them on
this Odysseys tour, and we have been thanking them ever since!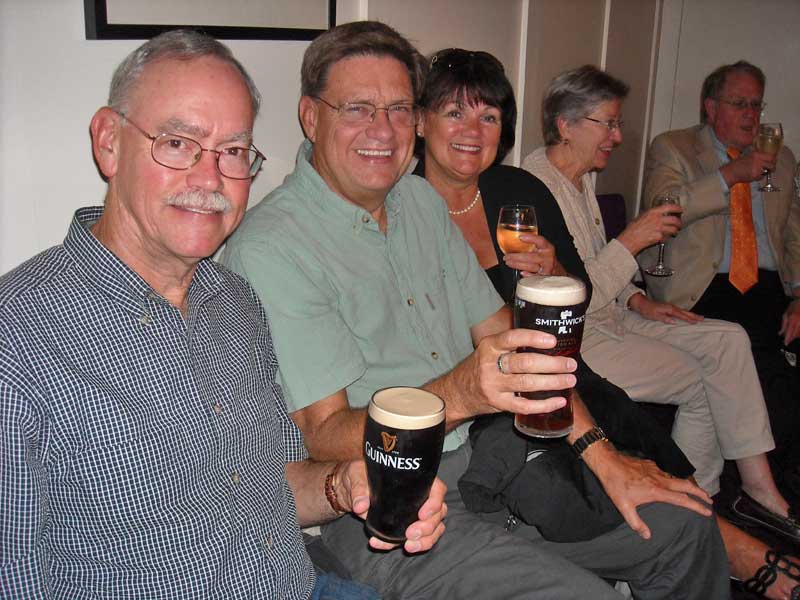 ---


We enjoy our first group dinner at a Dublin restaurant called Peploe's. What is Irish food like?
Very fancy, as you can see! It also features a LOT of potatoes. I cannot remember having a bad
meal in Ireland - we stayed away from American fast food outlets!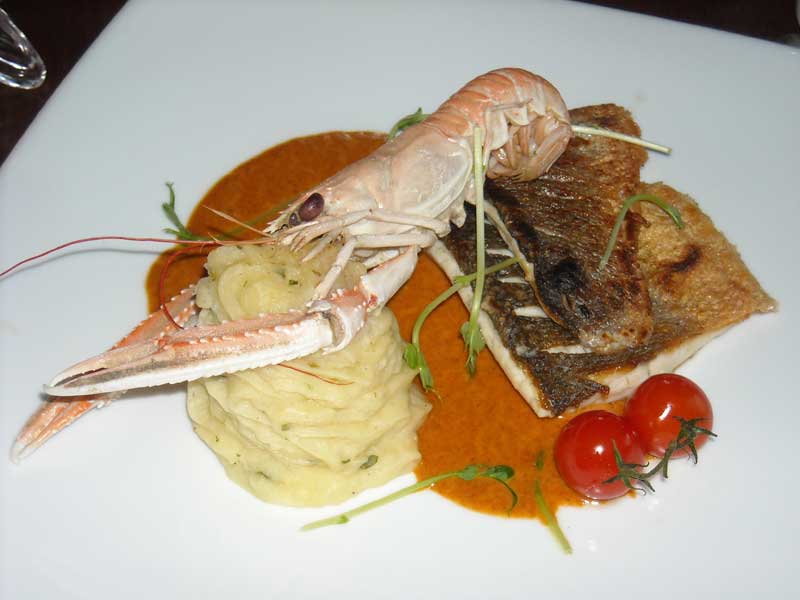 ---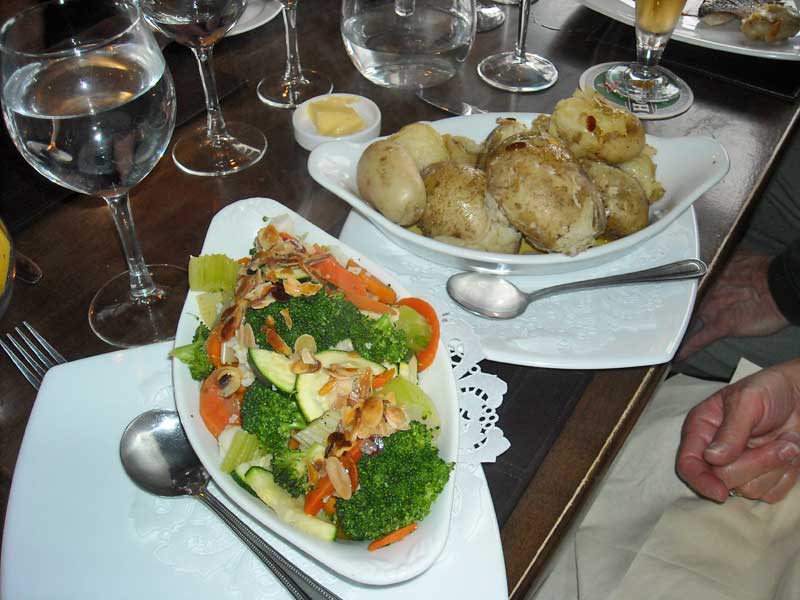 ---


A visit to Trinity College was next on our agenda. Founded in 1592 by Queen Elizabeth I, it is
a Protestant college in a primarily Catholic country. Most buildings date from the 18th and 19th
centuries. Some of the most famous alumni are Jonathan Swift, Oscar Wilde, and Samuel Beckett.
Trinity College is famous for its library system, including the Old Library, which contains
the Long Room (in which we were allowed to visit but not photograph) that houses 200,000
ancient books and manuscripts, and one of three remaining medieval Gaelic harps. The Trinity
College library contains over 4.5 million printed volumes, including the Book of Kells.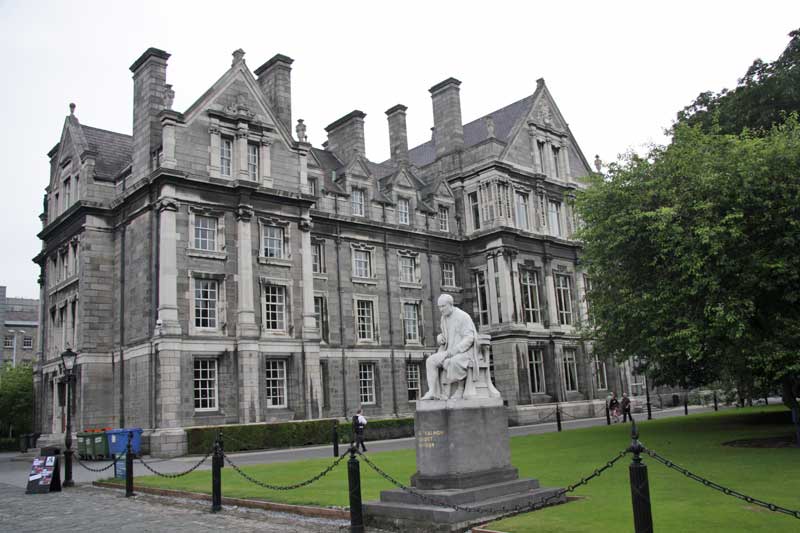 ---


The Book of Kells, considered the finest illuminated manuscript in existence, attracts more than
500,000 visitors annually. It is a version of the Four Gospels and is believed to have been written
around the year 800. It is one of Ireland's most treasured artifacts and although we were allowed to
see it, we could not photograph it. A guard watches over the visitors to ensure the book's security.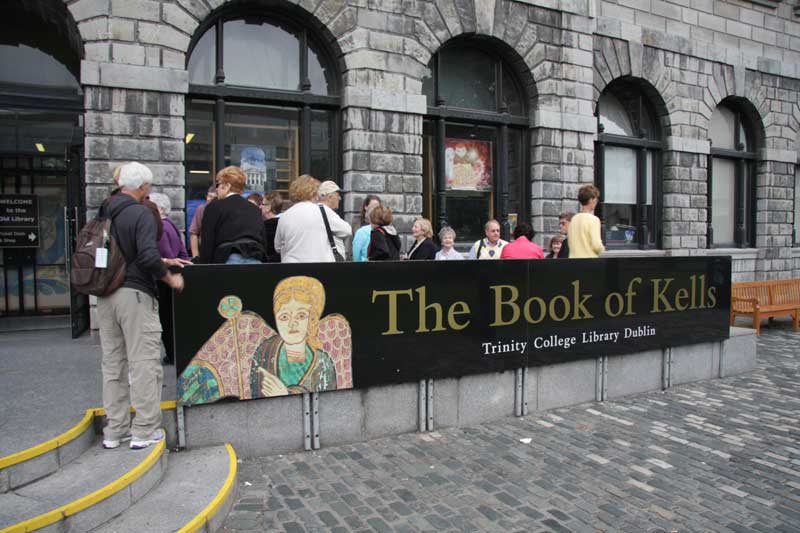 ---


This is St. Patrick's Cathedral, a Protestant church founded in 1191. Jonathan Swift (Gulliver's Travels)
was the dean of the church and is buried here (Swift: 1667-1745).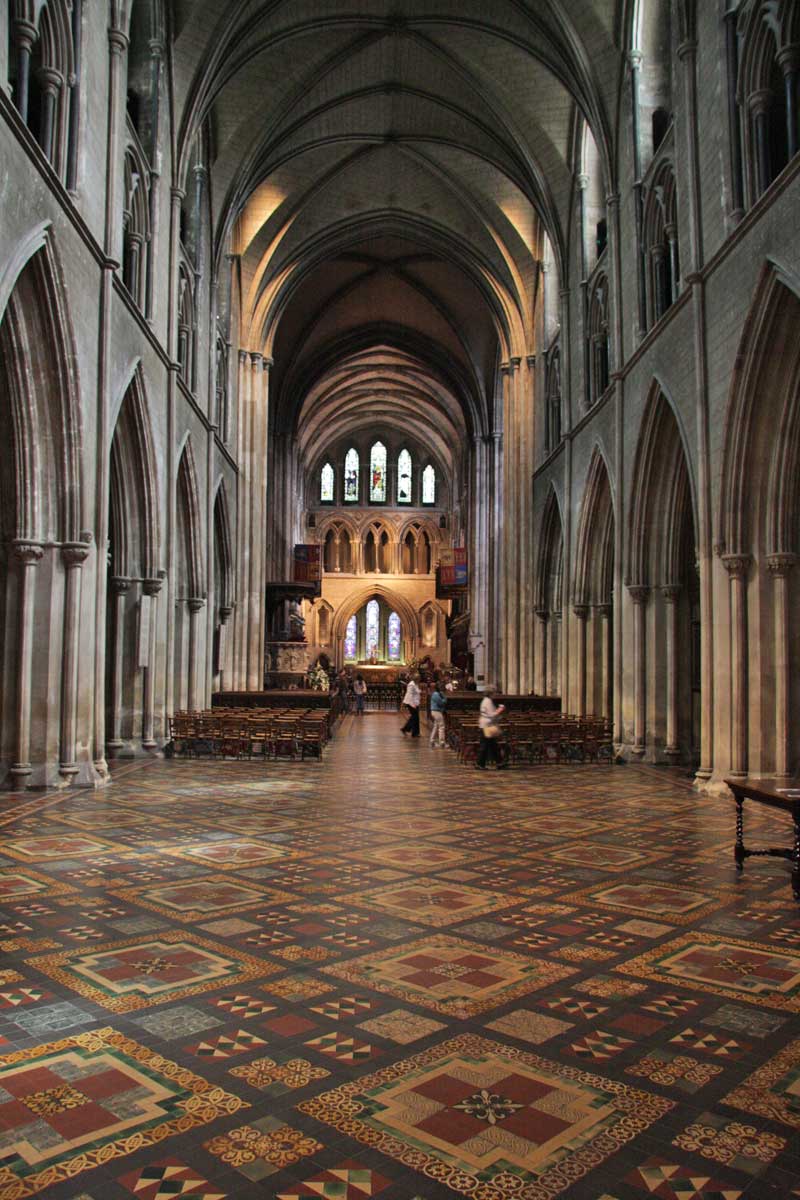 ---


This organ in St. Patrick's Cathedral was used by Handel to practice his "Messiah" prior to its debut in Dublin in 1742.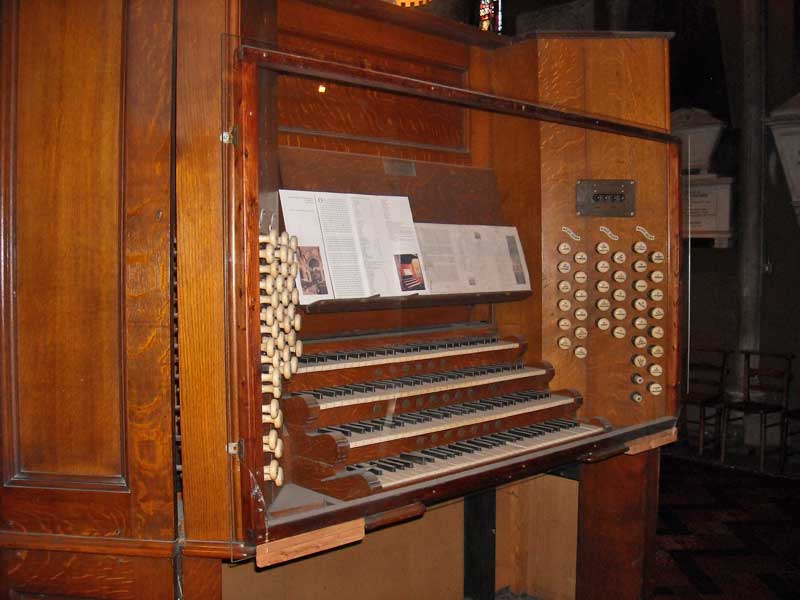 ---


There are some interesting business names in Ireland, such as this one ...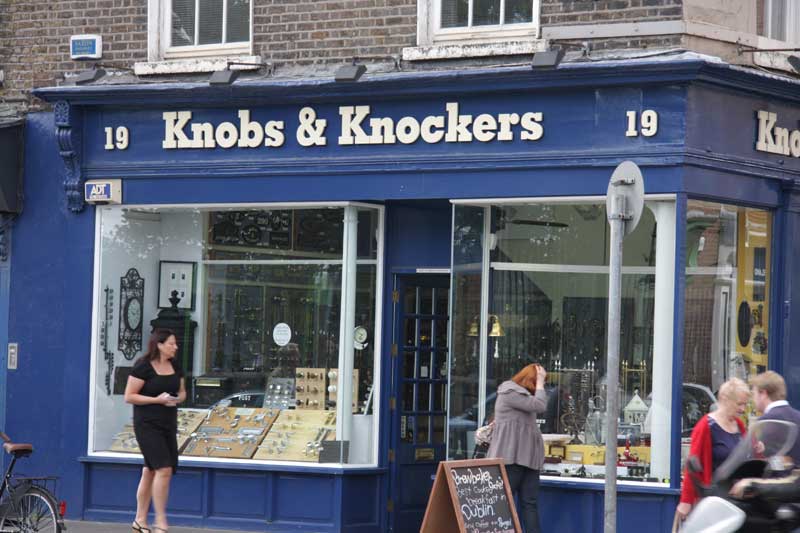 ---


This is the presidential mansion in Dublin. Does it look somewhat familiar?
The architect is the same man that designed the White House in Washington, DC.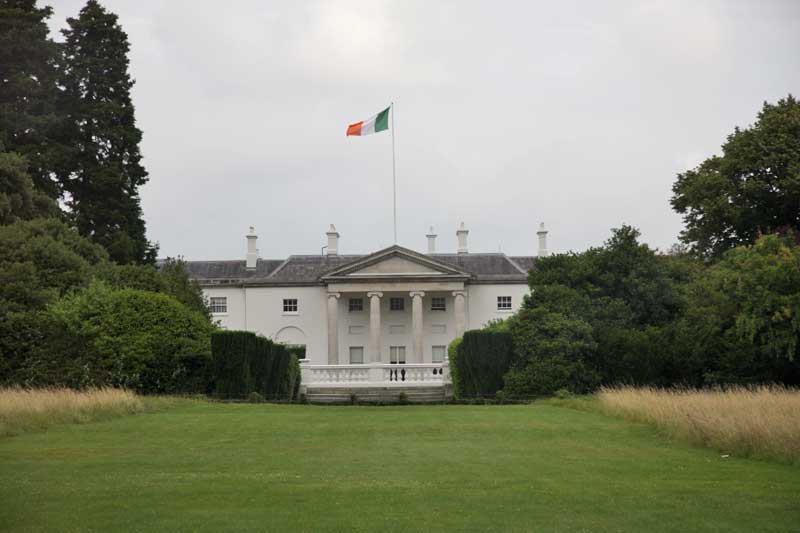 ---


Somebody steered us to the oldest pub in Ireland (could that be you, Gerry?). It's mind boggling to me to
think I'm having a beer in a pub that got started nearly 600 years before the creation of the United States.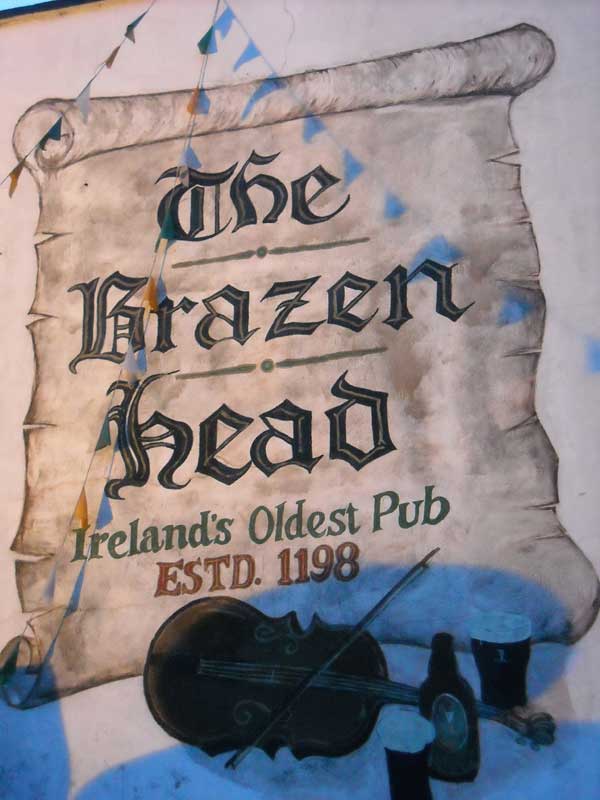 ---


Don Ross and I inspect the keg selection at the Brazen Head ... just to ensure quality. Yeah.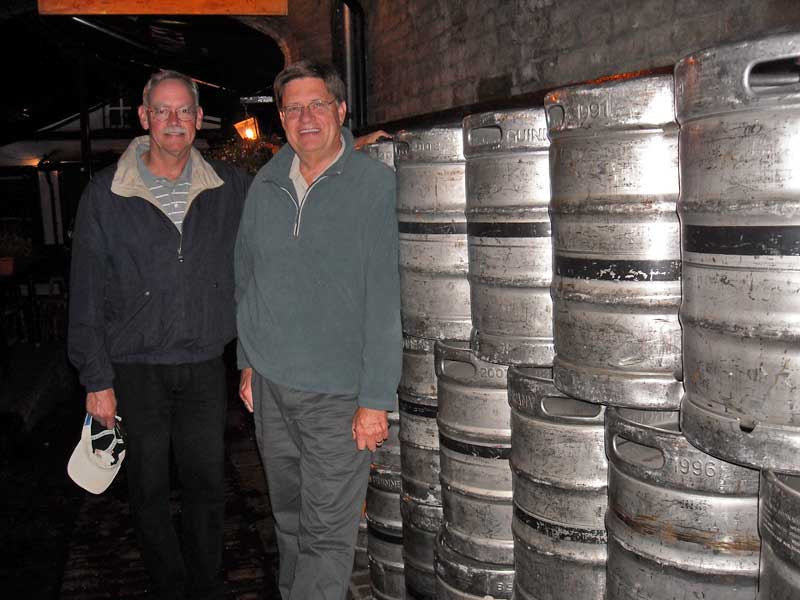 ---


These three tourists seem to be enjoying the offerings of the country's oldest pub!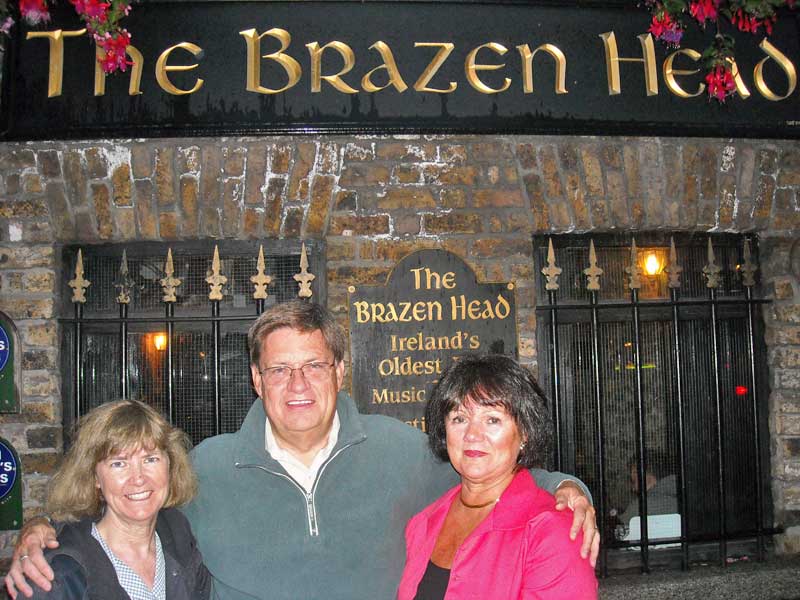 ---


A cab driver suggested we try a "Baby Guinness", made from a base of Kahlua topped with a floater
of Bailey's, served in a shot glass. It looked like a miniature version of a pint of Guinness.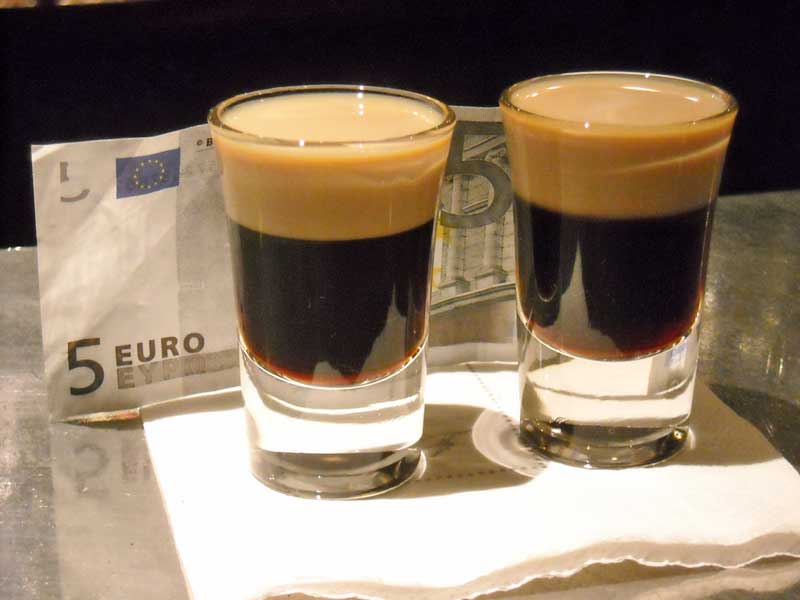 ---


So ... we took the cab driver's advice!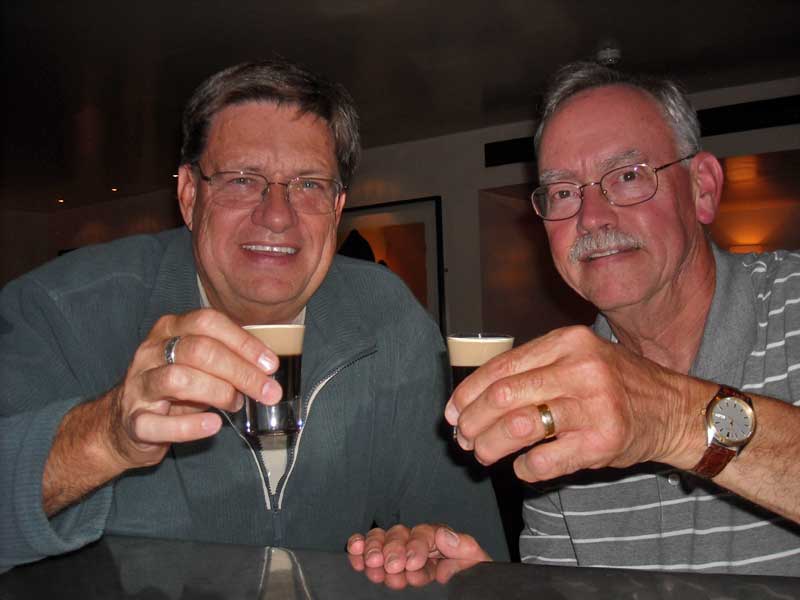 ---


We leave Dublin, headed for Galway. Along the way, we stop at the Tyrrellspass Castle for tea and scones.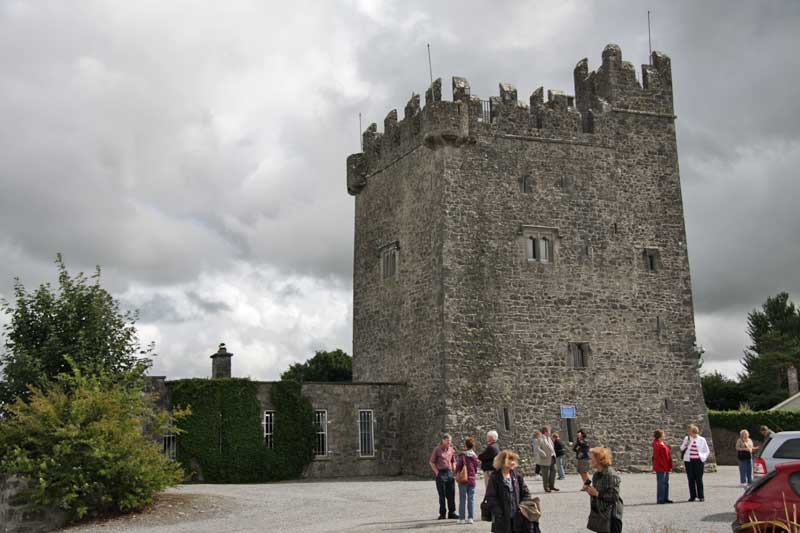 ---
Click to view Clonmacnoise and Galway.

Return to top level